Customer Meeting & Executive Briefing Trends
February 2, 2021

Leon Papkoff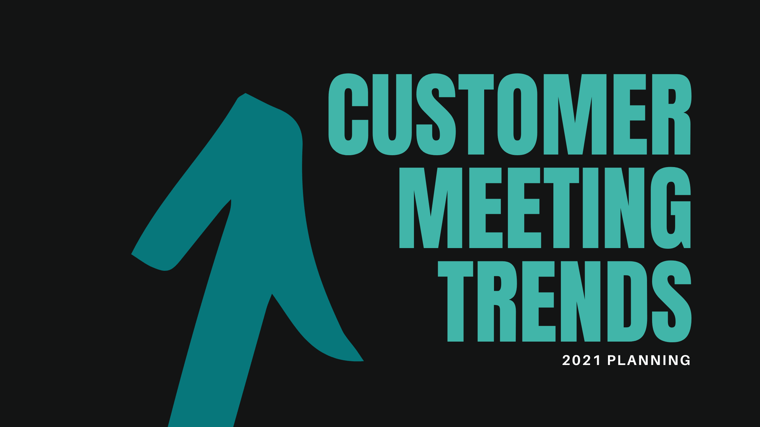 How companies create new and unique experiences that customers remember - will make a measurable impact in this new year and new world of business.
"I need to jump on another call."
"You're on mute."
"Let's take this offline"
"Hey guys, sorry I have to hop off, go ahead and keep talking"
Just a few common phrases we hear on virtual collaboration and video calls over and over. And really, there's no way to combat it. These of phrases and interactions are inherently part of an active work-culture we've ingrained in our workforce. Back-to-back meetings and virtual communications, it's a lot.
Now, it seems we're reaching the point of diminishing returns of our "work-from-home, all-the-time, and conduct-business-virtually-everyday world".
But what's a business to do? You have to meet with internal teams. You have to meet with customers. You have to move business forward despite current impediments and overload.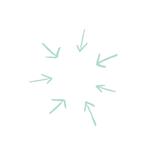 It's time to bring back the 'x' factor. Experience!
Customers are tired of being on Zoom calls, so you need to find a way to reinvigorate the experience for your audience and grab their attention, build excitement, and deliver effectively.
2021 Emerging CX & Meeting Trends
The major hurdles customer experience pros will be tackling this year address the virtual, on-site, and hybrid trifecta. In early 2020, we saw major strides in the space that focused on in-person experiences and building tangible, visual, and immersive activations that brought people together within spaces to deliver the 'x' factor.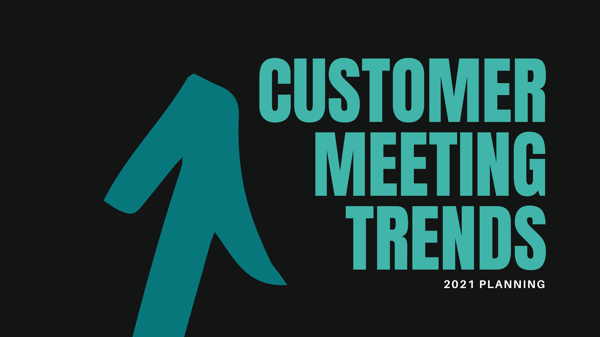 For the few that have gone back to fully in person, we've looked to you for cues and best practices (or even lessons learned). But for the many that are still planning out workplace reentry and customer programs - let's take a look at trends moving the needle forward - while acknowledging and addressing the current state of business.
Here are the trends we're seeing:
#1 Combatting Zoom Fatigue
You've scheduled yet another Zoom meeting (Skype, Hangout, WebEx, BlueJeans etc.). That's fine, it has to happen. Let's move beyond the tool itself and talk about the function: getting people together, discussing important topics, and having meaningful conversation or takeaways. These are core to ongoing virtual meetings.
To stand apart, capture your customer's attention in the beginning. Right from the start. Attention is currency, and if your audience just came from another virtual meeting, their attention is already waning.
A few ideas:
Bring in surprise speakers. Grant access to executive level folks or interesting speakers the customer may not have anticipated, but would be delighted to connect with.
Tell a personal story or relevant situation you recently found yourself in.
Create a quick 30s buzz film that has music, moving pictures etc that at least momentarily lifts eyes and diverts from the normalcy of talking heads.
Start your call with a poignant question. Naturally let your customer steer the conversation with a testimonial or hurdle they're experiencing.
#2 Fine-Tuning Hyper-personalization
Is it safe to say the further apart we are, the more personalized we need to be? The disconnect in customer experience programs is not 100% due to physical spaces and togetherness. Often times, customer decisions happen outside of the 4 walls of business, when customers have had time to reflect, read reports, and even browse a few pieces of content.
Constant connection and contact with your customer is important too, but the information you share really needs evaluation, making way for personalization based on industry, company size, existing technology points, market trends, and even customer-level considerations like role, years with the company, and personal interests.
84% of consumers say being treated like a person, not a number, is very important to winning their business
Including your customer/client's name on a branded web portal or virtual briefing platform goes a long, long way! It shows that the content they are viewing is not cookie cutter, but in fact designed to showcase their brand and how your product fits in to their culture.
Quick wins!
Hand-pick content that aligns to the customer's business needs and vertical
Change collateral often and keep the virtual customer environment fresh
Pre-poll your audience before a meeting to gauge sentiment and set the tone for topics of interest
Include the customer and specific audience members in presentation materials
Use logos and images that align with the customer's brand identity
And never underestimate the power of a special gift that makes someone's day
#3 Doubling Efforts On Content
Now that less focus is paid to on-site experiences and amenities, program managers are spending time cleaning up and identifying gaps in content libraries. As they say, content is key, especially when you factor in #2 above (hyper-personalization).
With much of the customer conversation and acquisition occurring outside of traditional business settings, we're seeing an impressive amount of content being created in new and different ways to align with diverse touchpoints of the customer journey.
From an agenda-setting level, customer meetings are chock full of helpful and relevant content that can be tied to micro and macro agenda details. With the help of global content repositories and virtual briefing environments, briefing managers spend less time searching for and sourcing content. These types of customer environment tools give briefing managers the ability to store, assign, tag, and distribute content that is applicable to A. their organization and business goals, B. their customer's business goals, and even C. industry-specific content that is all housed and easily accessible on one portal.
The goal here is not volume, but attention to persistent, pre-loaded content, that is part of a seamless experience and available on-demand for an autonomous customer journey.
Content types (re-)surfacing:
Smaller, bite-size videos and introductory messaging from key stakeholders

Repackaged customer testimonials

Custom notes and messages from executives

Commercials about using virtual environment tools and how-to-guides

Podcasts too!
#4 Embracing and Diversifying Virtual Tours
Moving beyond video chat, briefing programs are embracing virtual tours and let's just say... getting creative. You do what you have to do, even if that means holding a GoPro, steady cam or even your laptop as you walk around your center right?!
But if you have the resources, why not try one of these unique approaches:
#6 Creating New Roles
As programs embrace new technologies and platforms, we also need team members to support these experiential advancements. Primarily we're seeing new roles crop up around technical job functions and A/V to support robotics, broadcasting, technology integrations, platform administration etc.

But we're also seeing some fun roles emerge as well, in more of an entertainment approach, like production, media control, media creation, host/emcee, customer safety, and even deejay (shout out to Zach @ Workday).
The new customer experience lifecycle incorporates very visual, stimulating experiences that mirror that of real-world event production so it's only natural to on-board team members with the skill sets to bring a little fun, diversity, and magic to your virtual and hybrid production sets.
...and action!
#6 Opening Mini EBCs and Pop-Ups
Make use of remote locations, go to where your customers are. Makes sense right? Many experience centers sit in the heart of a primary or secondary location (often times headquarters) which equates to bigger spaces, more people, more interactions, and densely populated areas.
Currently, these are not highly sought after attributes.
Smaller locations closer to customers in different cities can serve as great remote hubs for more intimate experiences. Identify areas where a majority of customers operate and/or allocate space to several locations in different geographies. Mini EBCs can handle smaller groups of people resulting in less traffic. Customers won't have to travel as far, and staffing is a bit more scaled back.
Mini EBCs are a great way to increase reach and increase personalization with smaller scale, smaller scope meetings and interactions. As travel restrictions ease up, pop-up EBCs or road shows pave the way for even more remote locations and access to customers in areas with less reach and no office settings.
#7 Reconfiguring Physical Spaces
There will be an eventual return to work. It will happen over time, in phases, and at variable capacities worldwide. The last, but not least trend we're seeing is minor to major revamping of experience centers. Let's face it, they're not really in use now, so it's a good time to get your hands dirty so-to-speak.
New spatial configurations and layouts are influenced by post-pandemic considerations for health, cleanliness, and wellness. Executive briefing centers must account for the new customer journey, re-thinking what employees see, touch, and where they actually go.
As such, physical touch of places and things are under the experience microscope. From hardware, to software, to hardscaping, visual elements and even directional flow (exit/entry) will play a huge role in a customer's willingness, comfort and satisfaction with in-person meetings.
Impact On Briefing Programs
As you can see, these trends account for a diverse set of customer needs across variable locations and business entry points. Really, the customer experience exists anywhere and everywhere.
One of the most impactful things any briefing program can do (if they haven't already) is invest in an omni-channel experience, where the customer takes the experience with them. At home, on-site, or at a satellite location, customer's need to easily switch between devices (start/stop) their experience with you as they move about.
e.g.

>

the customer journey begins on a desktop through a virtual briefing portal


>

transitions to an app as the customer travels to your facility


>

switches over to an iPad when the customer arrives at your site for a face-to-face meeting




>

and transfers back again to the device that best matches their current needs and experiences
If all else fails, here are a few improvements on common video chat phrases you can use on your next customer call that resonate really well, give them a try:
"It's great to see you!"
"You might not have known this, but [positive thing about the customer/business]."
and of course... "How can I help?"
Topics Covered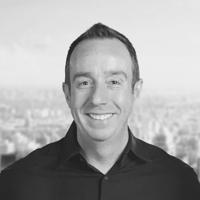 Leon Papkoff
Leon Papkoff is the Chief Product Officer of CXApp with 20+ years of executive leadership paving the way for emerging technologies shaping the future of work and dedicated to solving real problems for the digital workplace.