What is Office Hoteling & How Can it Benefit the Workplace?
March 12, 2023

Chris Wiegand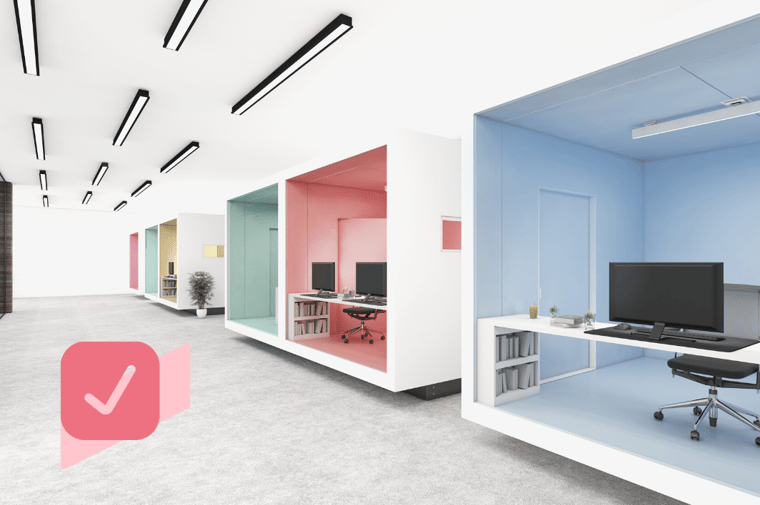 The pandemic has changed the corporate office as we know it. Today, many organizations are moving towards a hybrid workplace model. Whether an employee is working remotely, in the office or a mixture of both, there's no longer the need for every employee to have a cubicle in the office. That's why office hoteling and desk booking systems have become so useful in helping to manage and maximize workspace usage, particularly as a component of a broader workplace experience platform.

Office hoteling is the method of reserving space and resources in a workplace, in advance. The concept originated in EY's Chicago offices and has become more automated and streamlined due to advances in technology. At EY, employees spending most of their working hours on the road or telecommuting from home would call the "office concierge" to book a workstation, office, or meeting room as required. Two decades later, office hoteling has steadily increased in popularity, especially in corporate environments. Just last week, Google's CEO went on the record about the need for their own desk sharing program.
With the need of an increasingly hybrid workplace, office hoteling is becoming a must-have for the modern campus. Before we explore the benefits and best practices for office hoteling, let's first explore what makes it different from hot desking, another common trend.
Office Hoteling versus Hot Desking
Office hoteling and hot desking are both processes that allow employees to search for a desk to view real-time availability, either on a digital map or in-person, reserve a seat and check in and out.
But there's a big distinction.
With office hoteling, spaces can be reserved ahead for an extended length of time. This is a popular feature for employees that are visiting a campus and want to ensure that they will have a space to work for their entire stay.
Hot desking, on the other hand, gives employees the freedom to reserve an unoccupied desk on the fly. It offers employees the flexibility to book a space at the last minute. It also allows them to quickly adapt to unforeseen circumstances, such as changes in safety requirements by restricting which desks can be occupied in the office.
The best thing about office hoteling and hot desking? It doesn't have to be an either or — some solutions are able to offer both, so you can choose to restrict desk booking by space or not, depending on your exact needs.
What are the Benefits of Office Hoteling?
Why should you seriously consider office hoteling and hot desking? Here are seven key benefits of implementing them at your company.
Savings on Office Square Footage
One of the primary benefits of office hoteling noted by EY is the enormous saving potential as far as real estate costs are concerned, with the organization citing annual savings of more than $47 million. Since employees are not tied to a single workspace or required to spend eight hours in the office every day, companies can allow for headcount growth without simultaneously needing to invest in more office space.
More Office Resources for Employees
Office resources are also freed up when making the switch to office hoteling. When Sun Microsystems tracked employee attendance at their Santa Clara office, they discovered that for most of the workday, at least half their staff were off-site or working from home. When coupled with office hoteling, this made more resources such as desks, rooms, and equipment more available to employees in the office instead of being restricted to specific users.
Improved Employee Empowerment & Engagement
Beyond the financial and spatial benefits of office hoteling to the organization, employees benefit from a flexible work environment, thereby increasing their productivity and morale. Providing space without the rigorous requirement of daily attendance in the same office or cubicle empowers employees to work the way they want.
Increased Productivity & Collaboration
The creation of space for increased collaboration is another benefit that comes with the flexibility of office hoteling. With collaborative conference rooms and workstations reserved by necessity rather than assignment, there's greater availability — and therefore ease — for employees to find these spaces and use them to work with their peers. When companies make it easier for employees to find collaborative spaces, it encourages them to innovate together more often.
Smoother Visitor Management
The technology that enables office hoteling can also be used to create seamless experiences for guests, visiting consultants, and clients. Spaces can be booked ahead of time for visitors using an office hoteling solution. Moreover, an office hoteling tool often comes with digital workplace maps and step-by-step indoor navigation, making it easier for guests to reach their destination. These features can also help them find washrooms, cafeterias, and other relevant points of interest that they may require.
Consistency Across Satellite Offices
For large organizations with multiple corporate campuses and global satellite offices, office hoteling gives employees the ability to work around the world, accessing the resources they need, without being tied to a particular city. Especially for employees that need to travel to multiple offices every year, having a cohesive experience across offices can help to boost comfort, focus, and productivity when working in an unfamiliar workspace.
Allow Employees to View Space Occupancy and Density
Occupancy sensors display if a space on campus (e.g. a phone booth) is inhabited. They can be used in conjunction with an office hoteling platform to showcase the occupancy of popular places on campus, other than desks and rooms. Employees can also see the density of areas on campus, such as the cafeteria, helping them abide by social distancing requirements. The real estate team can also use this space activity data for future space planning.
What Should You Keep in Mind When Looking for an Office Hoteling Solution?
There's a lot to consider when exploring solutions in office hoteling. In order to find the right match for your company, be prepared to ask (at least) the following questions:
What does their out-of-box solution include? How much will additional features and customizations cost?

Do they integrate with your existing tech stack (e.g.: ERP, HRIS, CRM, CPM etc.?) Are these integrations built-in or do they require time to implement? If there isn't an existing integration to a platform, can they build it?

How mature is their product? Do they have existing customers in industries and with use-cases similar to yours? Do they have proven expertise in your space?

What is the exact cost, timeline, and workflow for implementation? Do they contract a 3

rd

party to do the implementation or is it in-house? What is needed on your end to support and complete this process (ex: hardware, software, personnel?)

What is their customer support infrastructure like? How fast can they adapt to emergencies? What is their standard SLA (Service Level Agreement) for customers like you?

Do they regularly collect customer feedback? How often do they release new features? Will they build custom functionalities for you, in-house?
Although it may take time and effort to find the right office hoteling solution for your organization, it will pay off in the long run by future-proofing your deployment and ensuring it can scale with your growth.
Best Practices for Bringing Office Hoteling to Your Company
While office hoteling has the potential to bring significant benefits to an organization, if implemented poorly, it can result in financial loss, a decline in productivity as well as increased frustration from employees.
So, what are the best practices to keep in mind when implementing office hoteling in a workspace?
Bring in a Space Management Tool:

Utilize a space management tool that will allow you to manage the rollout of new buildings or individual floors on campus.

Track How Your Desks Are Used:

Track usage for each desk, so you can understand what floors on campus are most popular and better plan for floorplan updates in the future.

Intuitive Booking Processes:

Select a platform that makes it easy for employees to see what desks are available and book them for individual and group use.

Congestion Planning:

Integrate occupancy sensors to help you oversee populated areas and stay on top of safety requirements.
Curious to see how you can bring office hoteling and more features of the future workplace to your organization? Get in touch with our hoteling team to schedule a live demo of The Workplace SuperApp.
Desk Booking for the Hybrid Workplace
There are many desk booking point solutions on the market, but how can you find one that integrates with your tech stack and scales with your growing workforce? Our brochure goes over what a smart desking solution can give you and how it can seamlessly adjust to the unique needs of your people.
Get your copy of the brochure today!
Topics Covered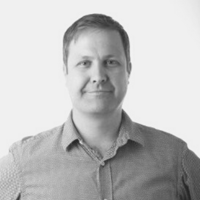 Chris Wiegand
With a track record of success in both business growth and business transformation, Chris Wiegand has dedicated his career to discovering and creating business opportunities that address real-world needs. In 2009, Chris co-founded indoor mapping company Jibestream, and led its incredible growth from an idea to a globally recognized leader in the indoor mapping space.