Keeping Employees Engaged in a Remote-Work Environment
March 4, 2023

Andrea Williams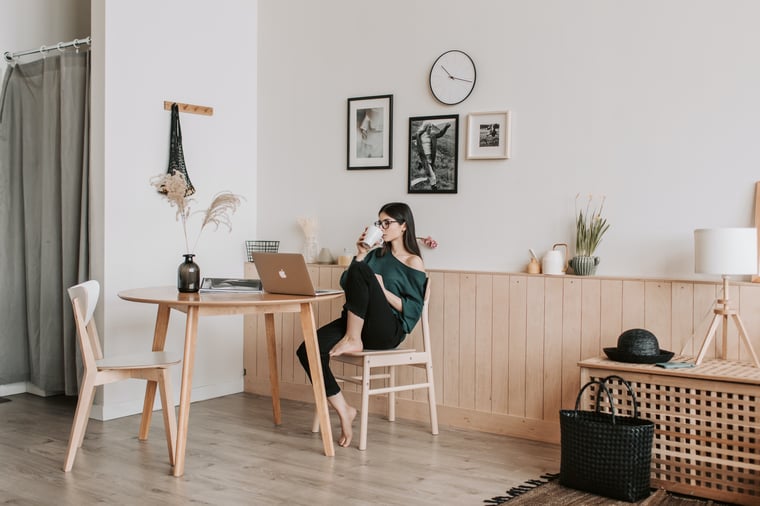 Even before the current times within which we work, many organizations were shifting to remote and home-based work operations. If not full time, more and more people have been allowed to work from home at least one or two days per week, maybe more. About 4.3 million people in the U.S. work from home at least half the time. Furthermore, the total number of people that work from home has increased by 140% since 2005.
The need for social distancing, has accelerated the remote work movement, pushing many companies to provide opportunities for their employees to work under isolated conditions. It's a people-first movement that values the safety and responsibility of workers, by shifting the work environment off-campus.
Global Workplace Analytics believes that 25% to 30% of the workforce will be allowed to work from home on a "multiple-days-a-week basis" by the end of 2021. It's not just because companies are being forced to offer support, but also because employees will demand the opportunity going forward. Also, and despite challenges, many organizations are realizing the cost-effectiveness of a remote workforce. Travel expenses are reduced completely, as are most of the expenses of managing a large office or facility.
But while remote work will seemingly be a staple of the business world from here on out in some capacity, there's still one rather large and unnerving complication. How do you keep remote employees engaged, satisfied and productive?
Understanding Employee Sentiment
It doesn't matter whether you're talking about on-site or off-site operations, employee sentiment heavily influences a workforces' job satisfaction and, by proxy, productivity. The happier and more connected employees are, the better they tend to perform. That's precisely why modern employee experience strategies prioritize the optimization of internal work culture. Improve the culture and ecosystem within an organization, and everyone will prosper. Of course, that's a little difficult when the workforce is miles apart from one another.
To make it optimal in remote settings, the first step is to understand what factors influence employee sentiment. Then, it's all about keeping the workforce happy and engaged by leveraging the said factors.
1. Emotions
The emotional state of workers is a major contributor to productivity and satisfaction, and not just in regards to work. Problems at home or with friends can have sweeping consequences for people, including on the job.
Loneliness, uncertainty, frustration, stress, and anxiety, are all negative yet natural emotions that plague people from time to time — and that's true of everyone, even upper management. 2019 OWLLabs figures have shown that people who work from home at least once a month are 24% more likely to report feeling happier and more productive at their jobs.
While you could make the argument that it's not always an employer's responsibility to keep everyone happy and stress-free, it does go a long way towards improving productivity and, as a result, the quality of the end product. Stanford University research has shown that people who work from home are 50% less likely to leave the company for another employer, meaning remote opportunities increase retention, as well.
2. Technology
In many ways, technology can be a boon, especially for remote work operations. However, it's important to acknowledge that there are just as many times where it can get in the way. The ability to do good work and collaborate freely relies heavily on communication access. If the workforce cannot communicate with one another, they might as well not be working at all.
Every employee should have the opportunity to access reliable, convenient tools that improve their experience. For remote work that includes desktop setups, audio accessories, collaboration tools and software, and online or cloud-based solutions. There's no way around securing a reliable and fast internet connection either.
3. Communication
The final piece of the puzzle is the supply of corporate communications both internally and externally. What's the story inside the organization, for executives, investors, employees and anyone else involved — partners too? What's the story outside the company, particularly when it comes to customers?
Are these questions and concerns being openly communicated or is there a lot of mystery?
Furthermore, how is communication being fostered across teams, departments and even locations?
Collaboration tools are vital to smooth remote working practices. Data shows that many workers — as many as 59% — view collaboration tools as an essential resource for working productively from home. Just 8% say they've not affected their remote work, while fewer — just 2% — say the tools have actually made them counter-productive.
Building a Remote-Ready Environment
All of it boils down to employee engagement or directly influences it in some way. Whether you're talking about local, remote, or virtual operations, the requirements are always the same. The workforce needs to have the technology to connect, and the communication to understand and follow through. With those things in hand, it will ultimately elicit strong positive emotions in the workforce that help to drive sentiment up.

Tips To Keep Your Employees Engaged
We could talk about engagement and employee sentiment all day — and what directly influences it — but the discussion is no good if no one understands how to improve it. Here are some examples that you can incorporate into your distributed work format:
CREATE CONTENT Release regular content that drives the narrative. Some examples include Q&A's with the CEO and other executives, regular directives updates, or employee spotlights.
COMMUNICATE MORE Boost communication to unprecedented levels. Send out workplace surveys, run polls and questionnaires, share workweek tips and goals, recap progress or events at the end of the week. Employees should also be notified when new content is available, via mobile push notifications, for instance.
INCREASE FACE TIME In the absence of face-to-face experiences, improve virtual meetups. Encourage digital and virtual events by hosting happy hours, extracurricular activities like book clubs, allow casual coffee and lunch breaks to play out on stream, and much more.
CROWDSOURCE ENTERTAINMENT IDEAS Help workers enjoy their downtime with fun and entertaining ideas. Build an exclusive company-wide playlist or highlight employee tastes. Offer a weekend movie or show binge list. Read and share books. Organize a team-wide gaming session.
RELAX WORK REQUIREMENTS During this time, people are forced to accommodate and tend to their children much more than they ever have, while at the same time honoring unrelaxed work duties. Daycares, schools and other support options are out of the question. Give your workers ample time to address these challenges. Taking a moment to change a diaper, fill a bottle or cup or eat lunch with the family does not mean productivity has to suffer, especially if there's time set aside for it.
SPONSOR OUT OF OFFICE TIME Healthy minds and bodies are more important than ever. Host a morning meditation session or set aside an hour of work-time to allow employees to partake. Offer a DIY power hour where workers can take time to relax, go for a walk, spend time with their kids, or even listen to a webinar.
ENCOURAGE FUN Take workplace experience events, which would usually happen on-campus, and adapt them for virtual settings. Workplace bingo, work-related hobbies or sessions, social campaigns, live events — they can all be hosted virtually.
CONDUCT EQUIPMENT AUDITS There's no need to be a stickler, but in the case where an employee might not have equipment or tools they need, how will you know? Find ways to engage and reach out to workers to gauge what they have available, and what they are lacking. Then create programs to get the necessary items or equipment to them. Maybe someone needs a laptop? Maybe another worker doesn't even have a desk?
Engaging with a Remote Workforce
At least one thing is clear about this remote work transformation: flexible working and more innovative work opportunities will become widely accepted. To preserve the health and safety of the average workforce, at home days — if not weeks — will be the norm. Remote work is here to stay, so mobile technology becomes a must-have tool for connecting a distributed workforce.
Giving your people a choice about their work environment is going to be a huge selling point and a key factor for the future job market. To acquire hot talent and keep workers loyal, remote work options will be an absolute necessity.
The trick is keeping everyone engaged, no matter where they are, by leveraging technology, smart processes and more open communication. The technology alone will need to support a multitude of work styles and environments, including more portable and on-the-go scenarios. Ultimately, mobile platforms will be a game-changer in that regard.
Topics Covered