User Accessibility In the Connected Workplace
February 16, 2021

Andrea Williams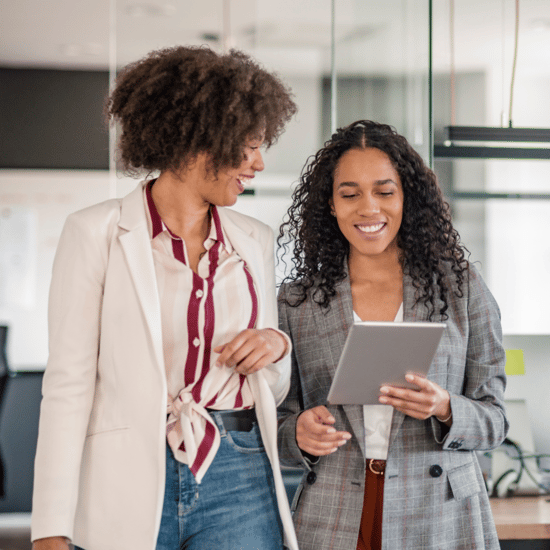 Platforms and services need to be convenient, all-inclusive, and engaging. In today's hyper-intense market, there is no other way.
Unfortunately, the state of many experiences — especially on mobile — isn't always top notch for everyone. As far as mobile apps are concerned, proper usability for the impaired often falls by the wayside and holds a low priority, posing a disservice to customers, and employees alike. It also sends the message you're unwilling or incapable of making adjustments, however minor, to accommodate them.
The demand for better user accessibility is high. The top global 5,000 companies have a combined total of over 158 million employees, which accounts for an overwhelming 70% of the worldwide GDP. As of January 2021, about 32.8% of the labor force participation rate includes disabled persons between the ages of 16 and 64.
So, there is (and always has been) a need to accommodate the visually and mobile impaired. This can be achieved by providing unique experiences that improve progress and usability. As a key innovator in the distributed workforce apps sector, we have updated our workplace experience platform to offer inclusive features, improved accessibility, and unique user-interface traits, to minimize the difference(s) in digital experiences for some audiences.
Inclusive Mobile App Features
So, what features can be included to improve the user experience? For starters, here are some of the improvements the CXApp team has made:
Interactive Labels and Buttons
All buttons or clickable elements — such as slide-out screens — can be labeled according to common accessibility guidelines. The descriptive text provides more context-appropriate indicators for those who need it.
Windows or Pop-Ups
Navigational elements are more clearly in view and accessible even when multiple content windows are being presented at the same time as you see with pop-ups. The user has full control over the interface to swap between modal windows, parent or child views, and more. They can also safely exit a modal task at any time.
Full Information Display
All the major data elements, including headers, button text, image alt-text, and more, accept primary and secondary information descriptors. This information can be leveraged by screen readers to deliver enhanced user interactions and improved capabilities.
Color Contrast Standards
All content and text within the application meet the minimum color contrast ratio of 4.5:1. This is a new standard to ensure a diverse range of readability support for all content amid many different user needs.
System Settings Compliance
The application will automatically recognize system-wide settings users have established on their mobile devices, adapting the in-app experience to meet the said changes. For example, if a device is already set up to display large or bold font sizes for easier reading then it will carry over into the app, without the need to adjust local settings.
Accessibility Routes
Wayfinding is an invaluable service, yet tricky to adapt for visually impaired users. The in-app location-aware features and real-time wayfinding now include accessible route options that present audio and visual cues. The turn-by-turn navigation is fully ADA-compliant and can be leveraged by everyone, regardless of physical disabilities.
Employees Deserve Support Across Devices
Thanks to the widespread digital transformation and the innovative technologies that reflect it, the future of work is more and more connected. It requires digitally-accessible experiences that are integrated with the environment. Physical and digital interactions are combined, with data moving from one realm to the other, and space to space. Yet, to deliver truly improved and immersive experiences, all touchpoints must be fully accessible, especially for the physically, audibly, or visually impaired.
Improving the foundation of your workplace apps means incorporating accessibility features like color contrast standards, auto-carry settings, ADA-compliance, and interactive elements. It also means delivering more helpful features to those who need it — like audio turn-by-turn navigation cues for the visually disabled.
Certain features like general location services can indeed be a tough egg to crack, but there are possibilities. To provide a successful workplace, there is no other choice. It must be done.
Topics Covered