Why an Office App is Vital for the Digital Workplace
March 16, 2021

Andrea Williams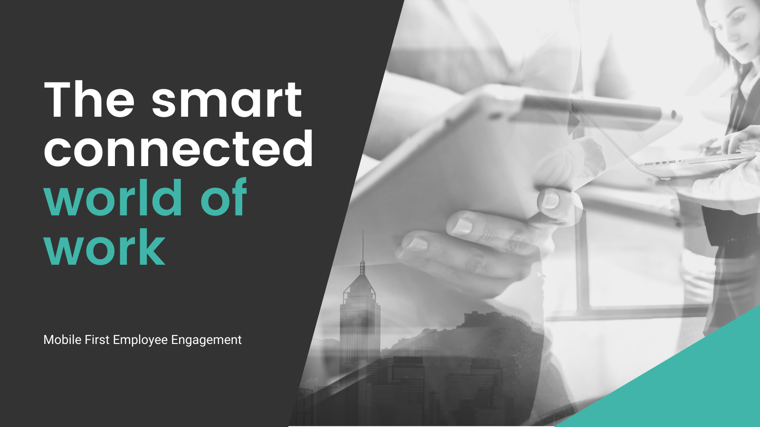 A Workplace SuperApp will keep employees connected in today's work-from-anywhere business landscape, but also provides powerful on-site touchpoints to provide context for workers based on who they are, where they are, and what needs they have.
An app-based employee experience platform has a lot to offer your average business. But, to quantify what an employee app can do and what benefits you can expect to see, there are a few things to consider first.
A smart campus, or next-generation campus as described by Deloitte, refers to a large facility, educational or otherwise, that integrates smart technologies to deliver a more intelligent and more efficient infrastructure.
Why Do Organizations Need a Smart Campus?
The merger between a traditional business facility or office, and smart technologies — IoT primarily — is what paves the way for a more dynamic workplace. We were always headed in that direction, but the pandemic strapped a rocket to its back, forcing everyone to go remote on an unprecedented scale. Yet, many still don't have an office app to facilitate the various interactions and systems that can connect them to one unified portal.
The future of work demands a smarter, more connected workplace, with healthier and safer operations. Modern technology is the way to achieve it, or rather through the adoption of digital workplace solutions to build a "smart" office.
Microsoft's 2020 IoT Signals report reveals that one-in-three decision-makers have plans to increase IoT investments after the events of the pandemic, while 41% say existing investments will remain.
The question is, how can these solutions be applied? What are the most effective ways to utilize smart campus technologies, to create the kind of dynamic workplaces we need?
A Workplace SuperApp: Top 6 Value Propositions
Enterprises investing in the foundation for positive and engaging workplaces will be able to connect employees to the workplace, physical spaces, each other, and IoT devices. Here are the benefits cross-functional groups and end users will come across when it comes to their workplace experience.
#1 Streamlining Multiple Apps and Workflows
App fatigue is a thing, and it happens often in the average workplace as employees need to manage accounts across multiple services and devices. One of the best use cases for a comprehensive, one-stop workplace app would be to mitigate that sort of thing. A single portal makes it easier for employees to engage with the service, finish work, and even collaborate.
It also significantly reduces the maintenance load, which would otherwise be spread across several applications or services.
#2 Consistency Across Locations, Buildings, and Personnel
With people working out of multiple locations, whether at home or on-site, workplace apps help provide a degree of consistency. They can also connect several locations like properties workers might travel back and forth between. The processes and protocols remain the same, regardless of location, so it's easier to move from place to place.
Even while visiting a foreign site, you know what tools to use and how to use them, because they remain the same. This is especially important for the rise in a distributed workforce, where employees choose to work from home or choose to come into the office.
#3 Improved Employee Engagements
Because it's a central location or application that every employee checks into and uses, the technology offers an excellent way to build and maintain employee engagement. Sticky features encourage employees to come back to the app, sometimes even multiple times throughout the day. This approach to communicating with and informing employees creates a positive and helpful corporate culture, that's about more than just clocking in, doing some work, and clocking out. It becomes more about the interactions, the people, and the systems at play.
High levels of employee engagement means better productivity in the workplace, and up to 21% more profits.
A connected workplace app can provide details on news, upcoming events, onsite amenities, emerging groups, ongoing projects, social awareness, company campaigns, thought leadership, and much more - generating unprecedented focus, connecting people across locations and delivering precisely what they need.
#4 On-the-Go Experiences
Contextual and location-aware experiences become possible and viable with the support of a single, unified mobile workplace application. Technology can be used to communicate directly with users, thanks to beacons, sensors, and IoT-enabled devices. They can also be used to collect data about experiences and trends across your work site, which better informs future campaigns. If you know users are relying on a particular amenity, you can use extra capital to improve facilities, programs, services etc.
Other possibilities include special content, promotions, targeted communications, and location-based alerts. Indoor navigation and wayfinding aid in providing employees turn-by-turn navigation to desks, offices, and other spaces sprawled out across a corporate campus.
It creates a digital front-door-to-the-campus, with complex contextual layers related to who you are, where you are, what you're doing, and what's nearby.
#5 Meeting Management and Daily To-Dos
We're all busy. We don't have time to check multiple systems on our phones or desktops or kiosks to see if a room is available or where we need to report to. Integrated into a campus mobile app, meetings become easily viewable and accessible on one central hub and synchronizes meeting room schedules across people and bookable spaces.
Automatic room check-in and check-out through beacons, sensors, and apps keeps accurate conference room inventory - aiding in efficient space management. Imagine it as a dynamic and highly-functional tenant experience for use with conference rooms, offices, communal spaces, and everything in between.
#6 Active Monitoring and Real-Time Insights
The smooth ebb and flow of an office are important. Site managers need information on how people are moving about the property, how they walk through doors, what spaces are used and for what purpose, and which work terminals or desks are available at a given time. This goes a long way towards properly and safely managing capacities.
Occupancy management is a necessary evil, especially right now. A single, unified mobile workplace app can help managers protect and inform the workforce in regards to capacity. When limits are reached, automatic alerts can go out to everyone not assigned a workspace — eliminating potential contamination or scheduling issues.
A Smart Campus For the Future of Work
A unified workplace app will have the biggest impact on a distributed workforce, which is important considering most operations will have a hybrid setup going forward.
These smart and digital services, or applications, can embrace the everyday needs of a hybrid workforce. They also make coming to work, and participating, much more meaningful for those involved. Above all, it's possible to keep remote employees engaged through an app, even while off-site or at home.
How Do You Prepare? How Do You Invest in a workplace app?
The first step, of course, is to invest in the technology involved. You need to build the infrastructure to support the mobile app and related services, which includes big data solutions — whether in-house or through a third-party.
Next, it's about making the right choices in regards to what functionality you focus on. Wondering what those are?
For a core system, you need:
Increased transparency
Real-time and advanced communications support
Smart and automated interactions
Active monitoring of the workplace and various facilities
A value proposition with a solid return
Topics Covered