According to the Workplace Mobility Report, 63% of global enterprises regard mobility as the most significant factor contributing to competitive advantage. Increasingly, companies are leaning towards employee experience platforms to create intelligent digital workplaces. Companies that don't account for mobility face challenges regarding inefficiencies and unsatisfied employees. Technology, such as workplace experience apps, can play a pivotal role in fostering a flexible and dynamic workforce.
Focusing on the employee experience is key. A primary purpose for implementing an employee app is to create a centralized hub for unified employee experiences, regardless of their location. When incorporated, location awareness further helps to provide relevant and timely experiences while improving efficiency, productivity and engagement. With location awareness, organizations can deliver hyperlocal content and send alerts and notices in real-time.
The flexibility for organizations to pick and choose what features and integrations are most important for inclusion in their employee app is another key consideration. From having a live news feed to having the option to book desks and meeting rooms within seconds or place food orders at the cafeteria, employee apps are all about making the employee experience much more personalized, connected, effective and seamless.
Today's employees are more mobile than ever. According to eMarketer, people spend 90% of their phone time using smartphone apps. Companies are implementing employee apps for the ease with which information can flow into employees' workdays. Organizations can create a similar experience to that achieved with the technology people use daily in their personal lives. With the rise of the hybrid workplace and the importance of communication across distributed teams, there is an increase in demand for employee apps that support this seamless workplace experience, and that are mobile-first. This means having all resources available in a single convenient app to help employees have the best experience - both on campus and at home.
What are employee apps?
Employee apps are mobile applications for workforces that enable employees to connect and collaborate with colleagues and the organization at large. They are a centralized hub that brings together campus-related digital touchpoints in a unified, user-friendly experience. Employee apps offer employees a real-time connection to people, places, and things. By having a contextual experience onsite, at home, and on the go, the experience never feels disconnected. This in turn is a convenient way to bridge collaboration between employees, regardless of where they are.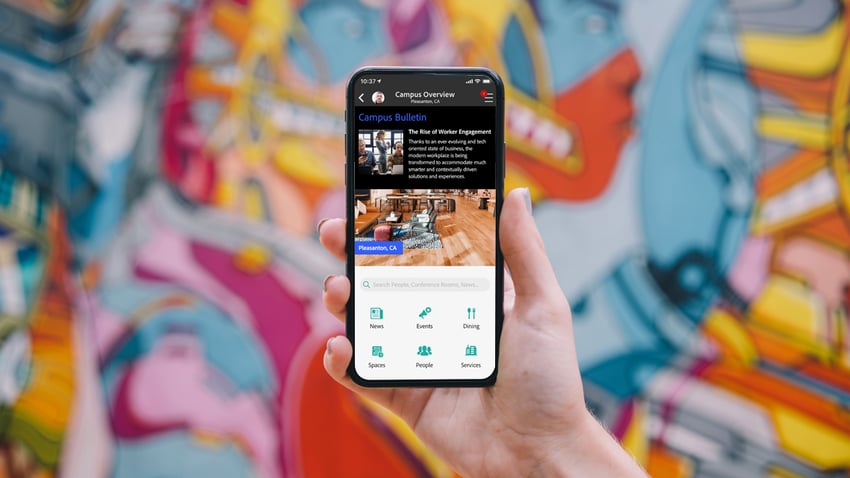 What are the different features and benefits of employee apps?
Some of the features and benefits of employee apps include:
Access to campus info
In-app access to workplace amenities, events, health and wellness resources, and other bookable opportunities and experiences.
Location awareness
Make it easy for employees, guests, and personnel to navigate your properties with turn-by-turn indoor navigation on a digital office map. With on-device positioning, you can effortlessly get where you need to be, such as a reserved workstation or meeting room, with a familiar blue dot experience.
Stay informed
A company-wide news feed featuring the latest stories, blogs, thought leadership and announcements helps employees stay informed with the option for personalized content.
Centralized directory
Search for a contact in the central directory, identify their workstation and receive turn-by-turn directions to their space. Additionally, get directions to other places and things granting instant access to all business facets.
Real-time notifications
Real-time updates and time-sensitive communications keep employees and visitors informed. With targeted location-based messaging, you can rest assured that the right message is getting to the right person and the right time.
Space management
Capture valuable data to help monitor and optimize campus health and usage. Beacons and sensors automatically register when employees arrive at their reserved workstation. A record of who sat where and when aids in real-time occupancy reporting, giving operations better control over per-site capacities, workforce thresholds and rapid response protocols by user's location.
Room and desk booking
Search for workstations on a live indoor map, see desk amenities, view desk availability, and reserve a seat. Automatic check-in and check-out relays real-time desk usage.
Additionally, search for and see the location of meeting rooms and other shared spaces on a live map. Refine results based on amenities and meeting requirements, check a room's status and make reservations. Meeting info and notifications are automatically sent to attendees.
And so much more...
Driving buy-in and adoption for employee mobile apps
Implementing an app is only good if consistently used by employees. Making the value of the app visible and understandable to employees from the beginning is important. It is a good idea to showcase how to use the app to employees, and how each feature can improve the experience on an everyday basis.
Smart campuses are full of digital experiences, with an employee app being the technology that connects people, places, and assets — whether employees are on campus or at home. Organizations today are moving towards mobile platforms to create a seamless experience regardless of where people are working from.
Let us help you plan your mobile app strategy. Contact us today to schedule a workshop with our team of digital workplace experts.
Learn About Our Employee App
Topics Covered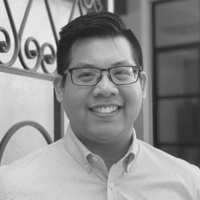 Alex Le
Alex is the Regional Sales Manager at CXApp. Specializing in digitizing the corporate office and enhancing the mobile employee experience.