CXApp Inc. (Nasdaq:CXAI) Announces Q2 2023 Financial Results: Record Growth & Customer Momentum for CXAI Platform
August 14, 2023
News Desk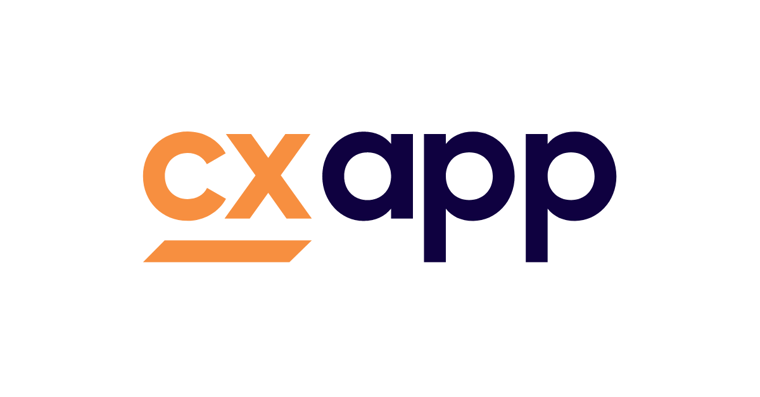 55% growth in new bookings from last quarter
2 New Fortune 200 Logos
New AI Application launch - "CXAI Search"
PALO ALTO, CA / August 14, 2023 / CXApp Inc (Nasdaq:CXAI), the global technology leader in employee workplace experiences announced financial results for the second quarter 2023. The 10-Q has been filed with the SEC today and will be available on the Company's website www.cxapp.com. You can view it here.
Khurram Sheikh, Chairman and CEO of CXApp said, "The CXAI SaaS platform is anchored on the intersection of customer experience (CX) and artificial intelligence (AI) providing digital transformation for the physical workplace for enhanced experiences across people, places and things.
We are pleased to announce the following financial results and business updates as we make progress on our journey to shape the future of work:
1. Financial Performance
The key highlight of this quarter has been the record growth we accomplished in our new bookings. Between April 1st - June 30th, 2023 we increased

sales bookings

by over

55%

from the previous quarter which included a combination of expansions with existing customers as well as contracting new customers.
We have optimized the operational cost structure with a net

50%

operating expense reduction as compared to prior to the acquisition and

25%

from the previous quarter.
Our

subscription-based recurring

revenue was

79%

of the total revenue, an overall increase of more than

25%

from last year.
Our

gross margin

for the quarter was

75%

which is an attractive figure that will potentially increase as our subscription revenues increase.
CXAI's strategy of

'land & expand'

also continues to be a key contributor to growing subscription revenues with our existing customer base.
For example, one of our Media & Entertainment clients has grown subscription revenues by over 80% since being contracted in 2021. Growth has been fueled by product enhancements and a growing footprint from initially starting with 2 campuses to now having contracted over 50 campuses globally with additional potential campuses to be deployed on the horizon.
We believe this example is representative of growth we can expect from other existing and new customers. Other notable expansion and add-on revenue this quarter came from existing customers that included a global insurance provider and a next generation auto manufacturer.
2. Customer Adoption
Our existing customer base has expanded to more than 463 campuses with 22 unique enterprise customers in 224 cities around the world in 59 countries.
We added

4

new customers in Q2, of which two are Fortune 200 customers and have the potential to grow from the initial limited deployments to hundreds of additional campuses as we execute to our plans. These wins also demonstrate our focused effort to acquire quality customers with large scale potential.
CXAI was selected by one of the world's largest financial organizations after a rigorous due diligence process where the customer evaluated multiple vendors in the space. We were ultimately awarded a large subscription revenue contract for the initial 3-year term, with potential expansions and value-based applications in parallel as we launch the first deployment. The key reasons for the win were the enterprise-grade comprehensive workplace solution, scalability, and AI-based technology roadmap.
3. AI (Artificial Intelligence) Platform Update
Our state-of-the-art technology platform is based on

37

filed patents, with

17

of them already granted. This substantial intellectual property not only establishes our company as a technological frontrunner but also secures our position as a pioneer in the industry.
Our

AI tools and models

are being built on the strong foundation of our full stack software solution that provides contextual awareness using indoor mapping and on-device positioning technology as well as the data collection of millions of data points from our enterprise app. This new area of

spatial intelligence

creates the opportunity to personalize the workplace experience at the same time as redefine the workplace environment.
One of the biggest problems our enterprise customers face today is

"where do you find the right information in your enterprise?"

We are introducing the revolutionary

CXAI Search

-a AI-based Enterprise Search solution -that will transform the way an organization operates.
This is a game changing AI application that swiftly delivers the right answers regardless of their data location within the organization, eliminating information silos and creating an "answer engine" that is intuitive, fast, dependable and results-oriented.
Our focus has always been on delivering cutting-edge solutions to empower our users, and I'm excited to see how this will exciting new AI application will transform employee experiences.
Khurram Sheikh concluded, "We are excited about the great progress we made this quarter in shaping the future of work with our leading-edge technology solutions. We are mission-focused on defining a new category in enterprise software: Employee Experiences. We have an amazing customer base diversified globally and across all major sectors ready for massive scale-up with our next generation AI platform. And most importantly, we have the leadership team and board that has a track record of leading industry transformations, and we are ready to take CXAI to the sky and beyond!"
Click below to view the full deck from CEO Khurram Sheikh on our Q2 2023 financial results: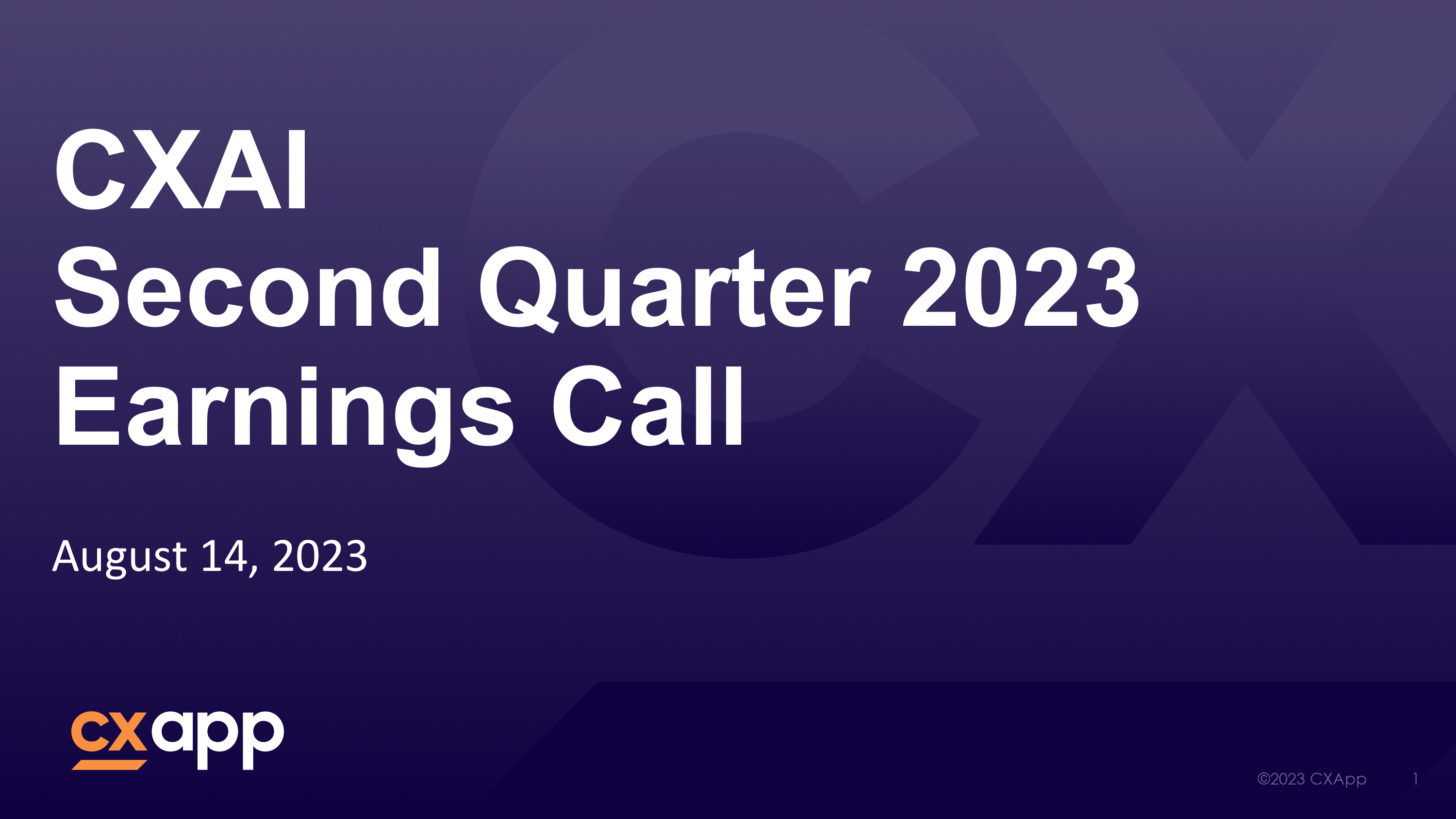 A full transcript of the second quarter 2023 earnings call can be found here.
This press release is for informational purposes only and is neither an offer to purchase, nor a solicitation of an offer to sell, subscribe for or buy, any securities, nor shall there be any sale, issuance or transfer or securities in any jurisdiction in contravention of applicable law.
About CXApp Inc.
CXApp Inc. is the global technology leader in employee workplace experiences. The Company is headquartered in the SF Bay Area and operates the CXAI SaaS platform that is anchored on the intersection of customer experience (CX) and artificial intelligence (AI) providing digital transformation for the physical workplace for enhanced experiences across people, places and things.
CXApp's customers include major Fortune 500 Global Companies in the technology, financial services, consumer, healthcare, and media entertainment verticals.
CONTACT:
www.cxapp.com
CXApp Inc.
marketing@cxapp.com
Forward-Looking Statements
This press release includes "forward-looking statements" within the meaning of the "safe harbor" provisions of the Private Securities Litigation Reform Act of 1995. The expectations, estimates, and projections of the Company may differ from its actual results and consequently, you should not rely on these forward-looking statements as predictions of future events. Words such as "expect," "estimate," "project," "budget," "forecast," "anticipate," "intend," "plan," "may," "will," "could," "should," "believes," "predicts," "potential," "continue," or the negative or other variations thereof and similar expressions are intended to identify such forward looking statements. These forward-looking statements include, without limitation, expectations with respect to future performance of the Company, including projected financial information (which is not audited or reviewed by the Company's auditors), and the future plans, operations and opportunities for the Company and other statements that are not historical facts. These statements are based on the current expectations of the Company's management and are not predictions of actual performance. These forward-looking statements involve significant risks and uncertainties that could cause the actual results to differ materially from the expected results. Factors that may cause such differences include, but are not limited to: the impact of the COVID-19 pandemic on our business, operations, results of operations and financial condition, including liquidity for the foreseeable future; the demand for the Company's services together with the possibility that the Company may be adversely affected by other economic, business, and/or competitive factors or changes in the business environment in which the Company operates; changes in consumer preferences or the market for the Company's services; changes in applicable laws or regulations; the availability or competition for opportunities for expansion of the Company's business; difficulties of managing growth profitably; the loss of one or more members of the Company's management team; loss of a major customer and other risks and uncertainties included from time to time in the Company's reports (including all amendments to those reports) filed with the SEC. The Company cautions that the foregoing list of factors is not exclusive. You should not place undue reliance upon any forward-looking statements, which speak only as of the date made. The Company does not undertake or accept any obligation or undertaking to release publicly any updates or revisions to any forward-looking statements to reflect any change in its expectations or any change in events, conditions, or circumstances on which any such statement is based, except as required by law. These forward-looking statements should not be relied upon as representing the Company's assessments as of any date subsequent to the date of this communication.
Topics Covered