A New Era of Employee Engagement: Introducing CXApp's Global Virtual Campus!
September 20, 2023

Leon Papkoff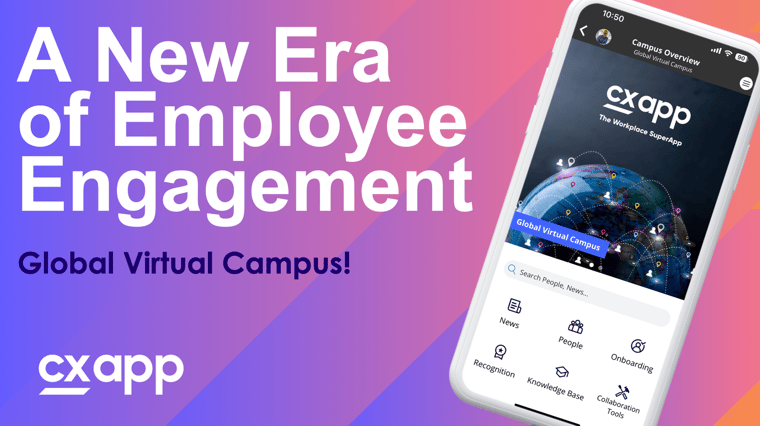 In the ever-evolving landscape of modern workplaces, staying connected, informed, and engaged has never been more crucial. Enter CXApp's Workplace SuperAppTM, the unparalleled choice of enterprise companies as the number one workplace and employee experience app. Loved by employees for its engaging features across various industries, this app is the linchpin of fostering collaboration and interaction. As we journey into the future, CXApp is introducing an exciting expansion - the Global Virtual Campus. Let's uncover how this innovation seamlessly bridges the physical and virtual realms to create a dynamic and engaging workspace for all, regardless of their location.
Unlocking Engagement: CXApp's Workplace SuperAppTM
Before delving into the possibilities of the Global Virtual Campus, let's rekindle our appreciation for CXApp's Workplace SuperAppTM. Renowned for its versatility and engagement features, employees appreciate its functionalities such as Desk Booking, Room Booking, Blue-Dot Navigation, Submitting IT tickets and more. This app encapsulates the essence of a connected workplace, propelling interactions and experiences to new heights.
Introducing the Global Virtual Campus
Imagine a world where the traditional office boundaries dissolve, a workplace that fosters connections, innovation, and engagement beyond physical limitations. This is where the Global Virtual Campus comes into play, an organic digital extension of the physical workplace, tailor-made to meet the needs of on-site, hybrid, and remote employees.
Engagement at Your Fingertips
The real marvel of the Global Virtual Campus is its accessibility. With a simple tap on your mobile device, a world of engagement unfolds. Here's a glimpse of the transformative features that redefine how employees collaborate and connect:
1. Interactive News Feed: Stay in the loop with the heartbeat of your company through real-time updates. The interactive news feed invites you to immerse yourself in the latest news, articles, blogs, case studies, etc. sparking lively discussions through comments, video posts, polls, and surveys. It transforms passive information into vibrant conversations that build engagement across teams within your organization.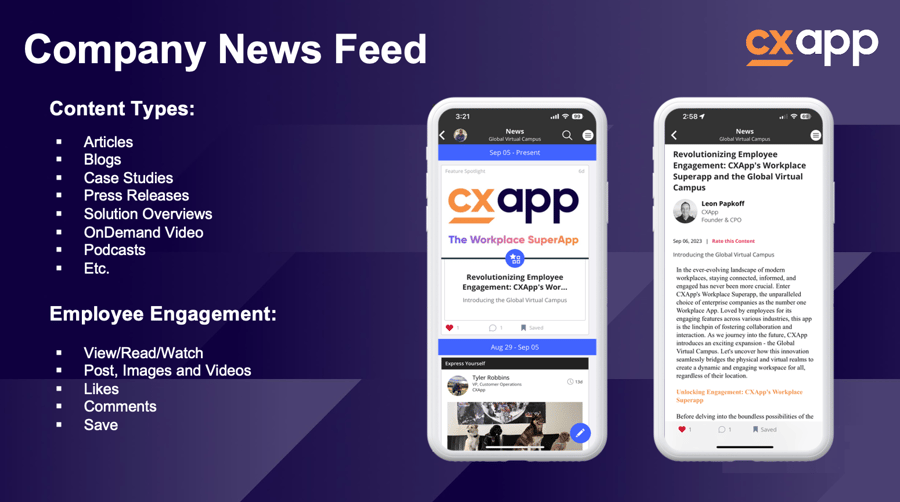 2. Virtual Wellness Center: Employee well-being takes center stage with a virtual wellness center. This hub can house content and best practices from life coaches and nutritionists who guide employees towards holistic well-being through videos, articles and Podcasts. By nurturing both mental and physical health, this feature champions a workforce that thrives in all aspects.
3. Insightful Company Podcasts: Knowledge is power, and CXApp's platform empowers through insightful podcasts published by your company's various business units. Gain valuable industry insights and stay updated on products and services, bridging the gap between employees and the heartbeat of the organization.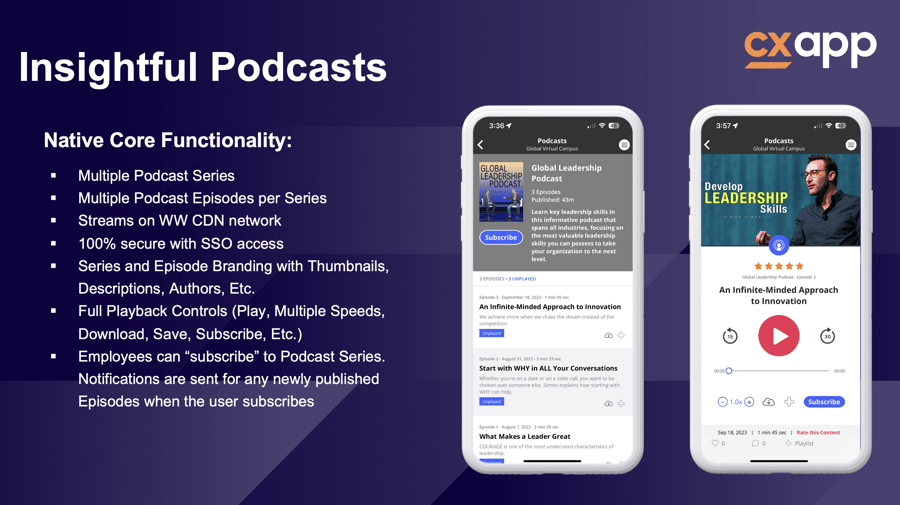 4. Culinary Corner: Even in the digital realm, the joy of shared experiences is celebrated. The Culinary Corner brings culinary experience to life, offering recipes from on-site restaurants and cafeterias to delight on-site employees, and virtual recipes and cooking videos shared by like-minded colleagues. This creates a community bond through a shared love for food.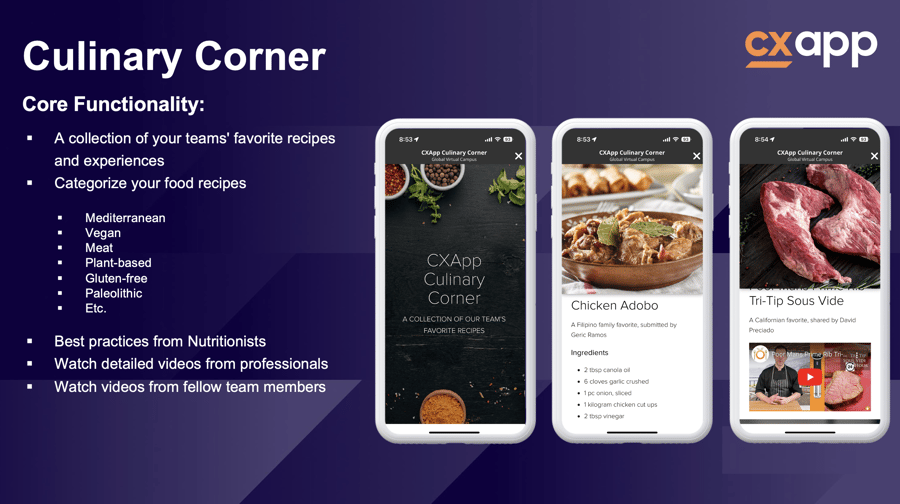 5. Employee Career Growth: Fuel your professional growth through events and communities directly linked to Slack channels. This seamless integration ensures that learning experiences frictionlessly blend into the fabric of your daily work life.
6. Employee Recognition: Fostering a culture of recognition is pivotal to employee growth. The platform facilitates employee recognition, creating an environment where contributions are acknowledged and valued.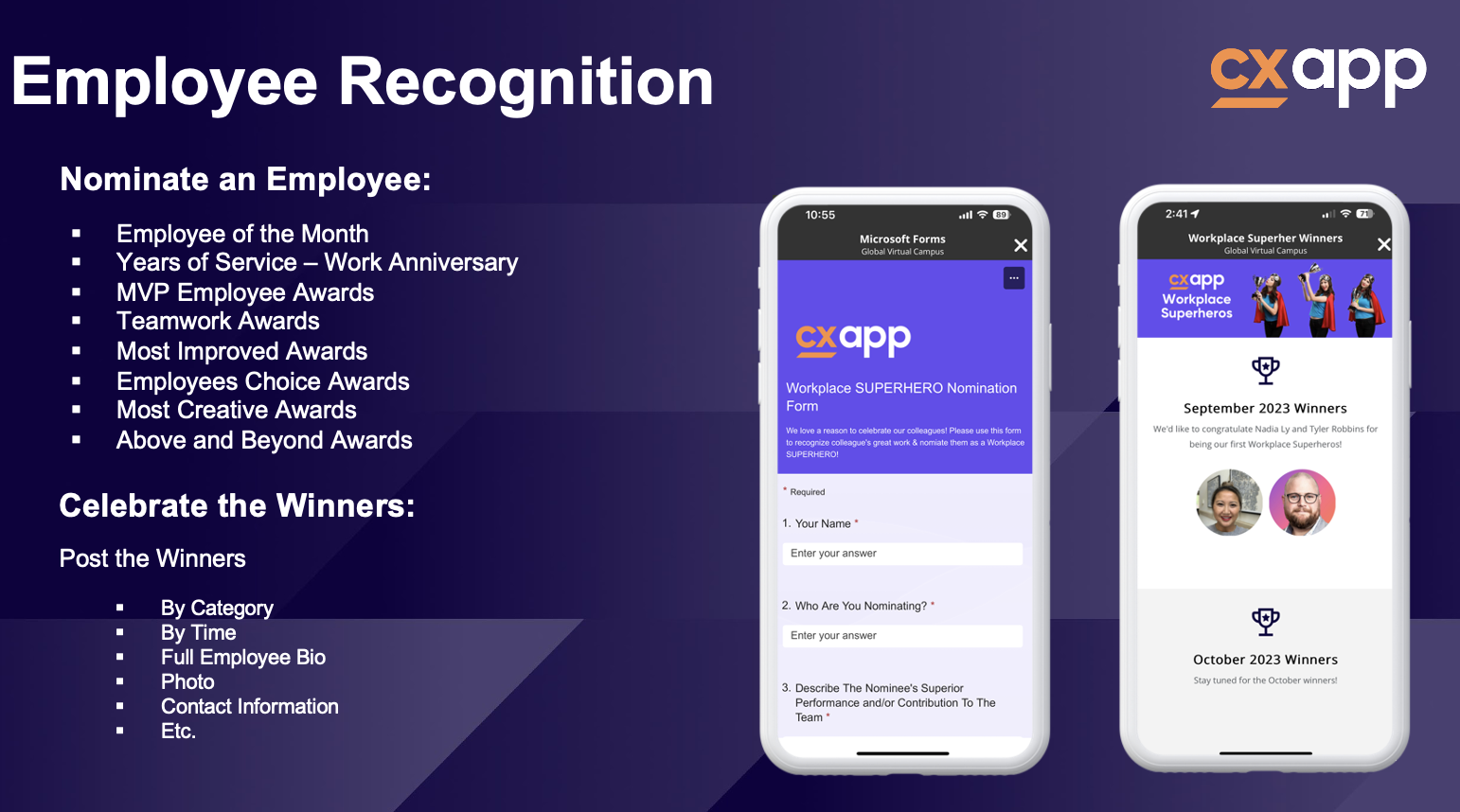 7. Global Employee Directory: Strengthen connections with a comprehensive global employee directory. This directory features profile photos, bios, desk locations, contact information, and organizational structures, making it easier than ever to find and connect with colleagues across the globe. You can even search for employees by skills and hobbies to find like-minded individuals.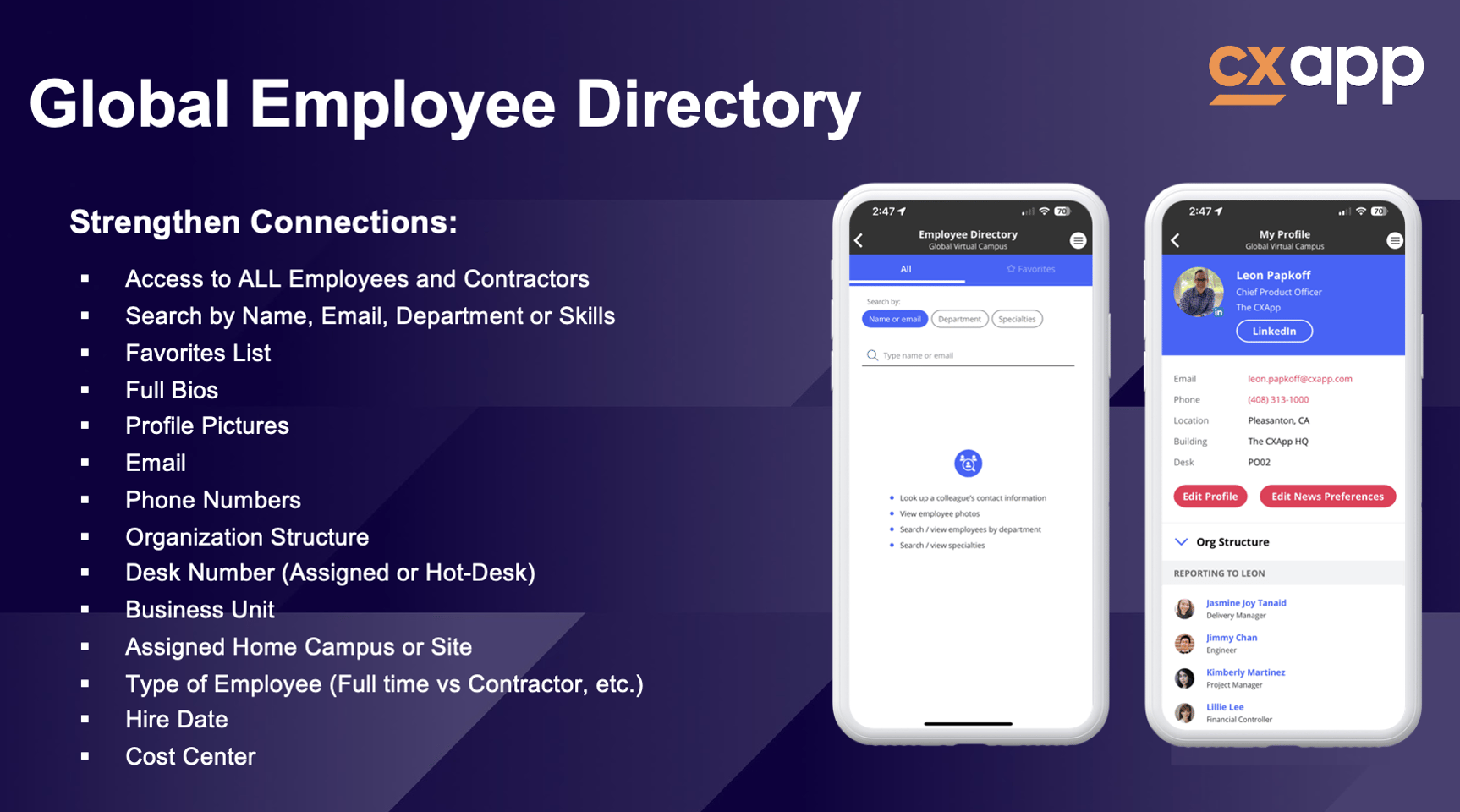 8. Virtual Helpdesk and Support: Simplify the process of getting technical support with our Virtual Helpdesk feature. Submit tickets and book appointments for virtual or on-site assistance, ensuring that support is readily available whenever you need it. The platform manages Facility and IT Tickets with direct integrations into ServiceNow, FM Systems, and many more.
9. Mobile Notifications for Real-Time Reach: The employee notification system ensures that key updates reach you, no matter where you're located. This feature empowers real-time communication and collaboration, breaking down barriers of time and distance.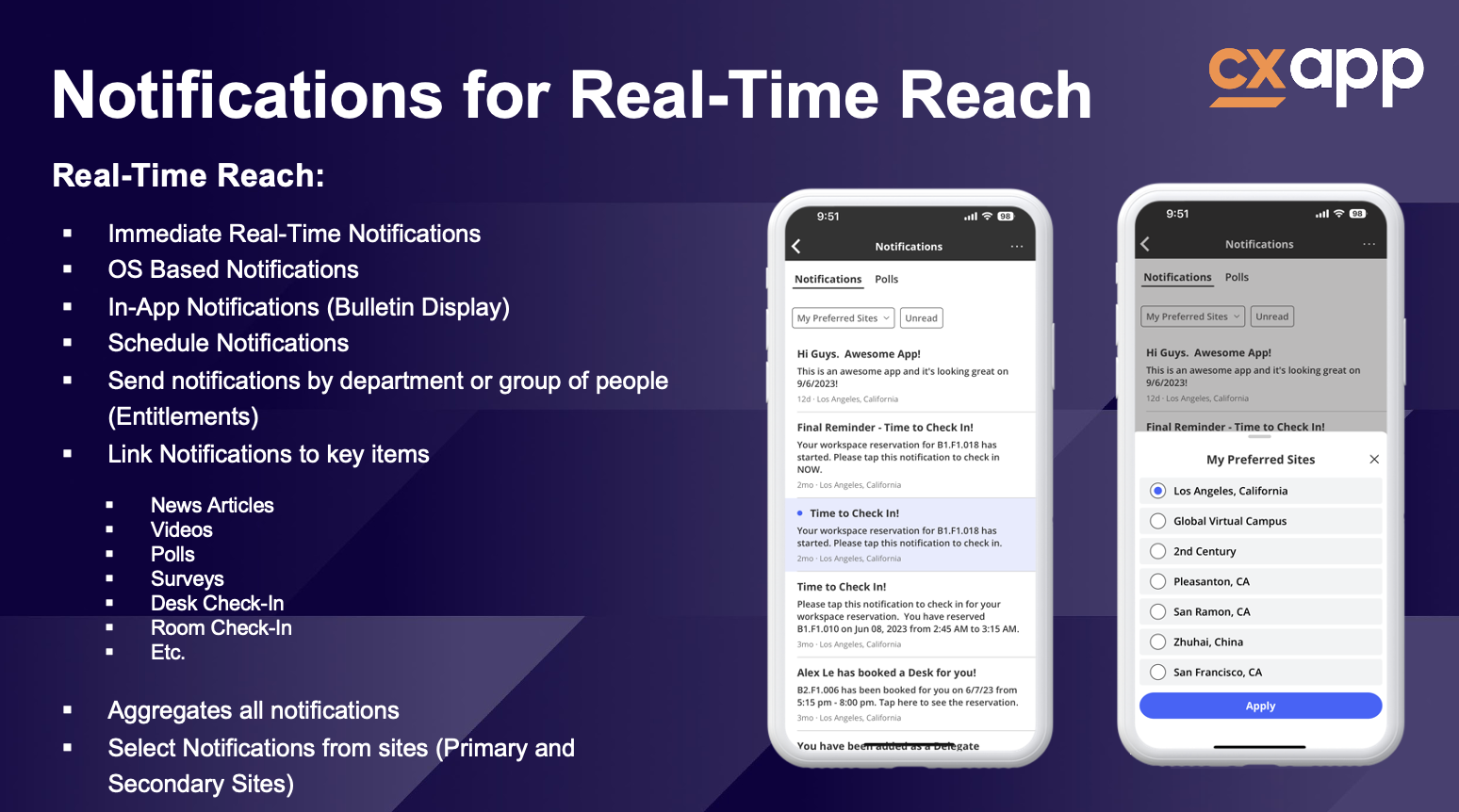 A New Era of Employee Engagement
In essence, the Global Virtual Campus is an embodiment of CXApp's commitment to creating a connected engaged workforce. It transcends geographical constraints, catering to the needs of employees regardless of their work arrangement. This innovative platform encapsulates the essence of employee engagement, empowering employees to thrive in a virtual workplace.
In a world where workplace dynamics are continually evolving, CXApp's technology stands as a testament to the power of connectivity. The Global Virtual Campus is not just a platform; it's a reflection of the transformative potential of technology in shaping the future of employee engagement.
In conclusion, the synergy between CXApp's Workplace SuperAppTM and the Global Virtual Campus redefines employee engagement. Whether you work on-site, remotely, or in a hybrid capacity, this groundbreaking solution empowers you to connect, learn, and thrive. The value of CXApp's technology cannot be overstated; it's the bridge that brings employees together, fosters well-being, and fuels growth. It's time to embrace the future of engagement, powered by CXApp.
If you would like to learn more, please reach out to request a demo.
Topics Covered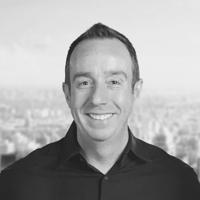 Leon Papkoff
Leon Papkoff is the Chief Product Officer of CXApp with 20+ years of executive leadership paving the way for emerging technologies shaping the future of work and dedicated to solving real problems for the digital workplace.