How Aruba Atmosphere Leveraged A Smart Event App
July 11, 2022

Andrea Williams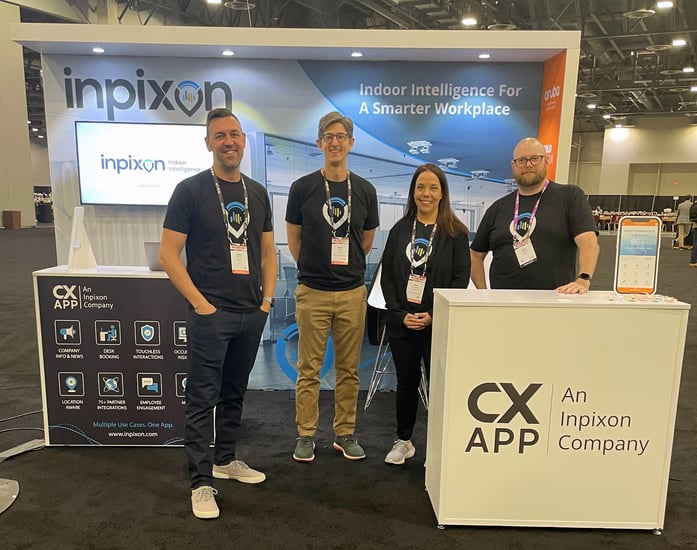 Hybrid event technology is enhancing events all around the world — and it's becoming a necessity to elevate corporate event programs. In fact, a global study with 3000 respondents found that 71.1% of event organizers find connecting in-person and virtual attendees is their biggest challenge. So what are industry leaders doing to tackle that problem?
Aruba Networks, a Hewlett Packard Enterprise company hosted their annual Aruba Atmosphere conference in March 2022, bringing together technology companies from all over North America to develop new skills and learn best practices, and to see where technology is going in the networking and security space.
With a mix of in-person attendees in Las Vegas and remote participants, Aruba Atmosphere leveraged CXApp's event management platform to deliver an interactive hybrid event experience for their audience.
The best hybrid event technologies support live and remote experiences while ensuring value is not lost when switching between attendance preferences and experiences are equitable no matter how they choose to attend.
Here are the top features used at Aruba Atmosphere 2022 featured in our behind-the-scenes video, and how they enhanced virtual and in-person experiences:
Indoor Navigation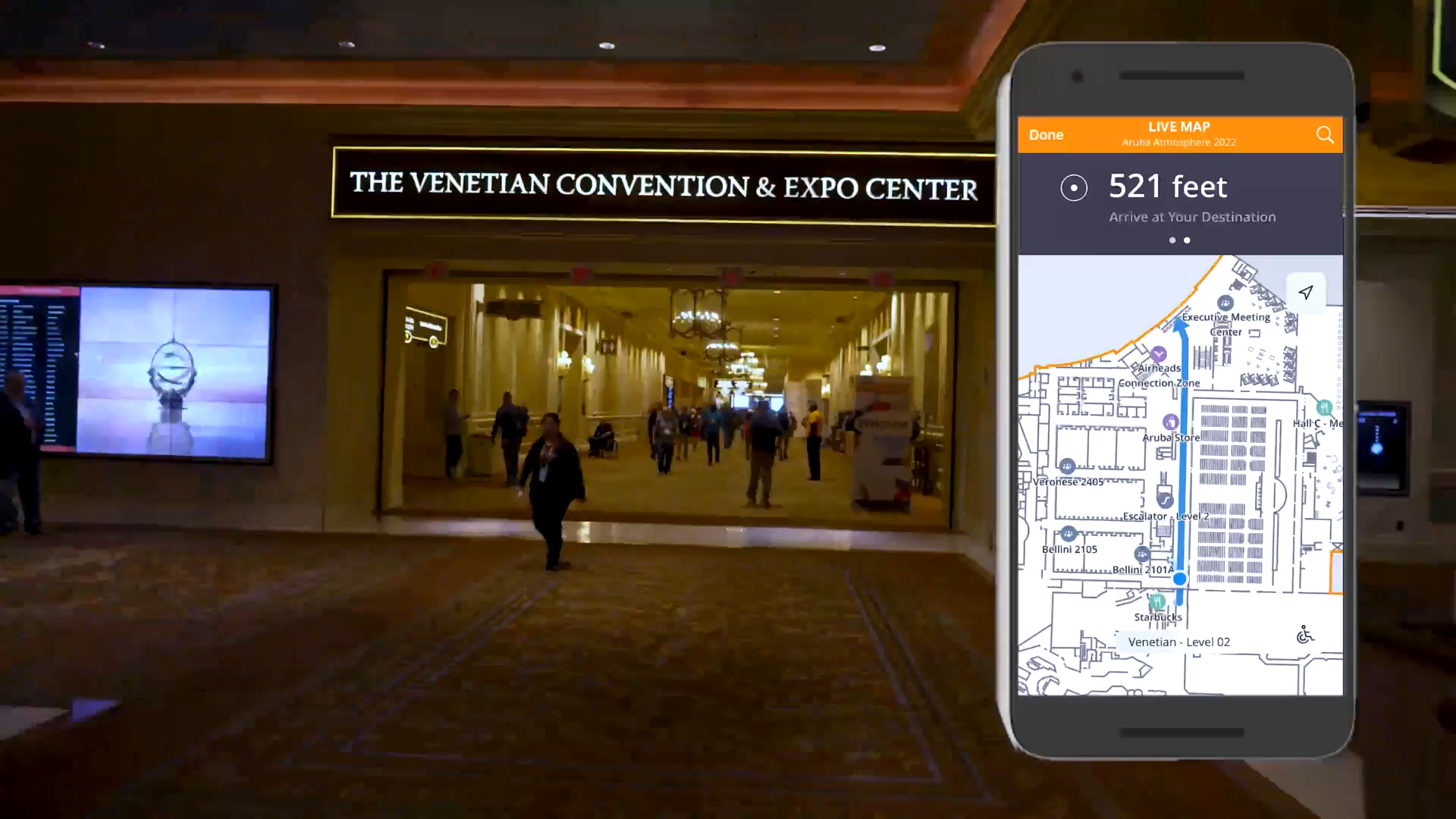 With approximately 2.5 million square feet of space, the Venetian Convention and Expo Center where Aruba Atmosphere 2022 was held is a relatively large space that may not be easy for first-time visitors and even return visitors to navigate. With the Aruba Atmosphere event app, powered by CXApp Events, attendees had access to an interactive map and turn-by-turn navigation to get to where they needed to go, from the nearest Starbucks to a specific session room to the main registration desk in case they needed help from conference staff. Through zooming in on the map and checking out amenities around them, conference attendees were able to explore everything the conference had to offer and avoid getting lost or delayed across the convention center.
Live Chat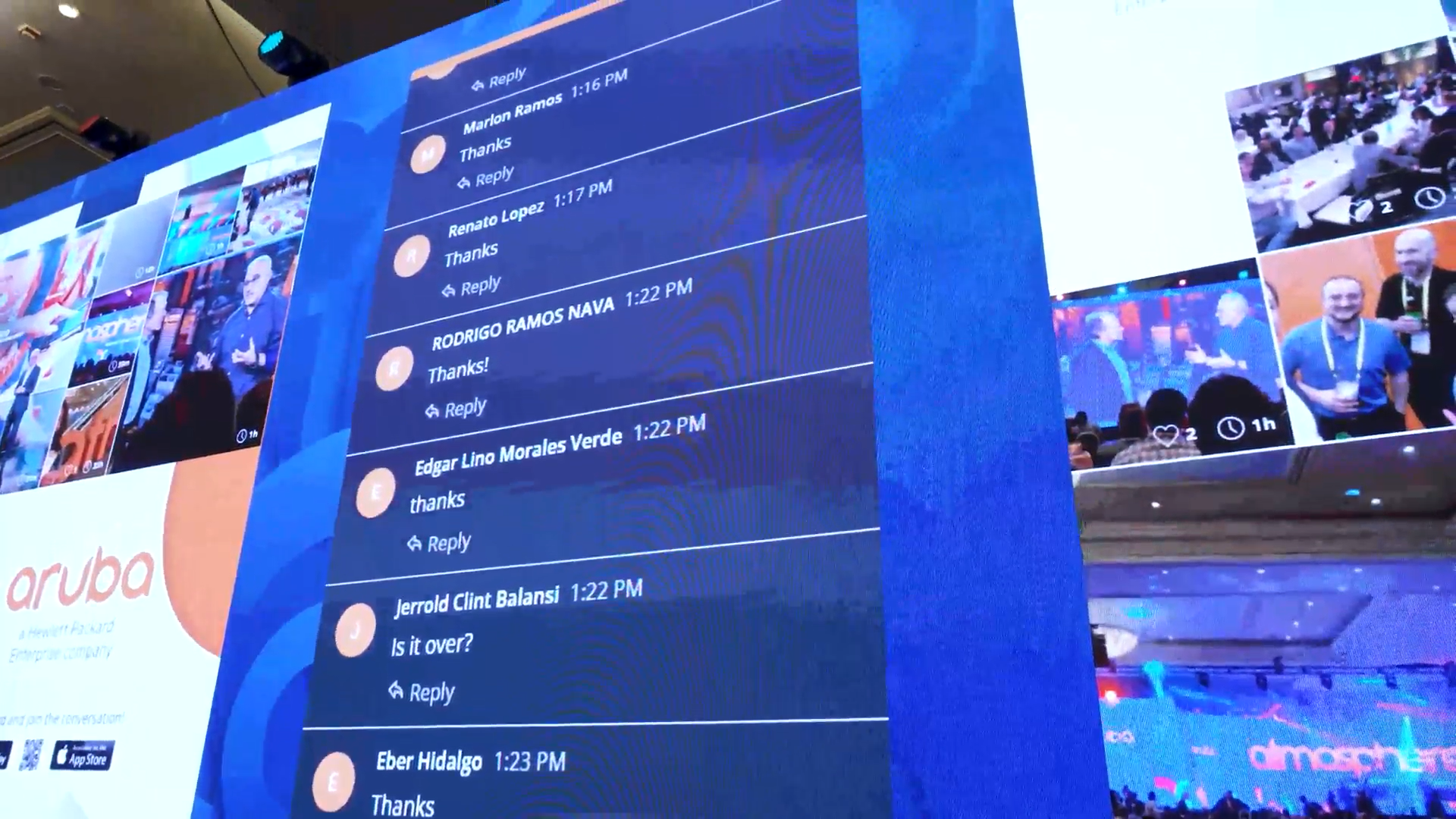 Attendees, both in-person and virtual at Aruba Atmosphere 2022 were able to interactive in-the-moment, even during session to contribute to speaking points and Q&A. Using the live chat feature, on their phones and desktops, they were able to ask questions on-demand, giving each speaker a plethora of discussion points to address throughout the presentation, without having to abruptly pause or be interrupted. Moreover, the live chat was displayed on-screen and on the virtual platform, so attendees could engage with each other and build on each other's questions and insights throughout the event.
Gamification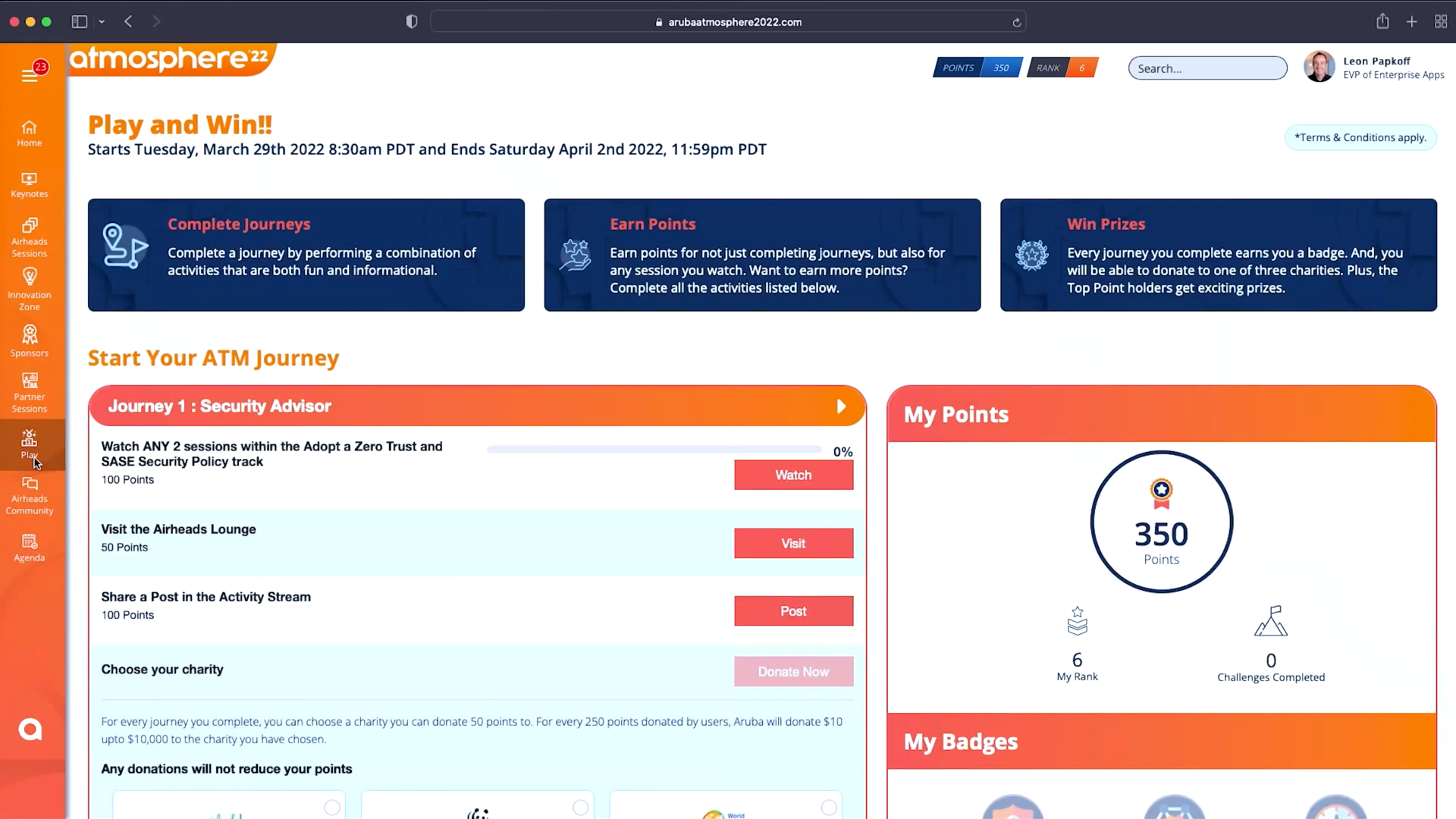 The gamification feature on the events platform added a layer of interactivity and fun to the event, letting attendees watch videos, participate in the live chat and answer polls to gain points and win prizes. This unique feature rewarded participants for taking the time to engage with the platform and served as a fresh, organic way to introduce them to different forms of content, membership perks and networking, so they can maximize their experience at the conference.
Detailed Agenda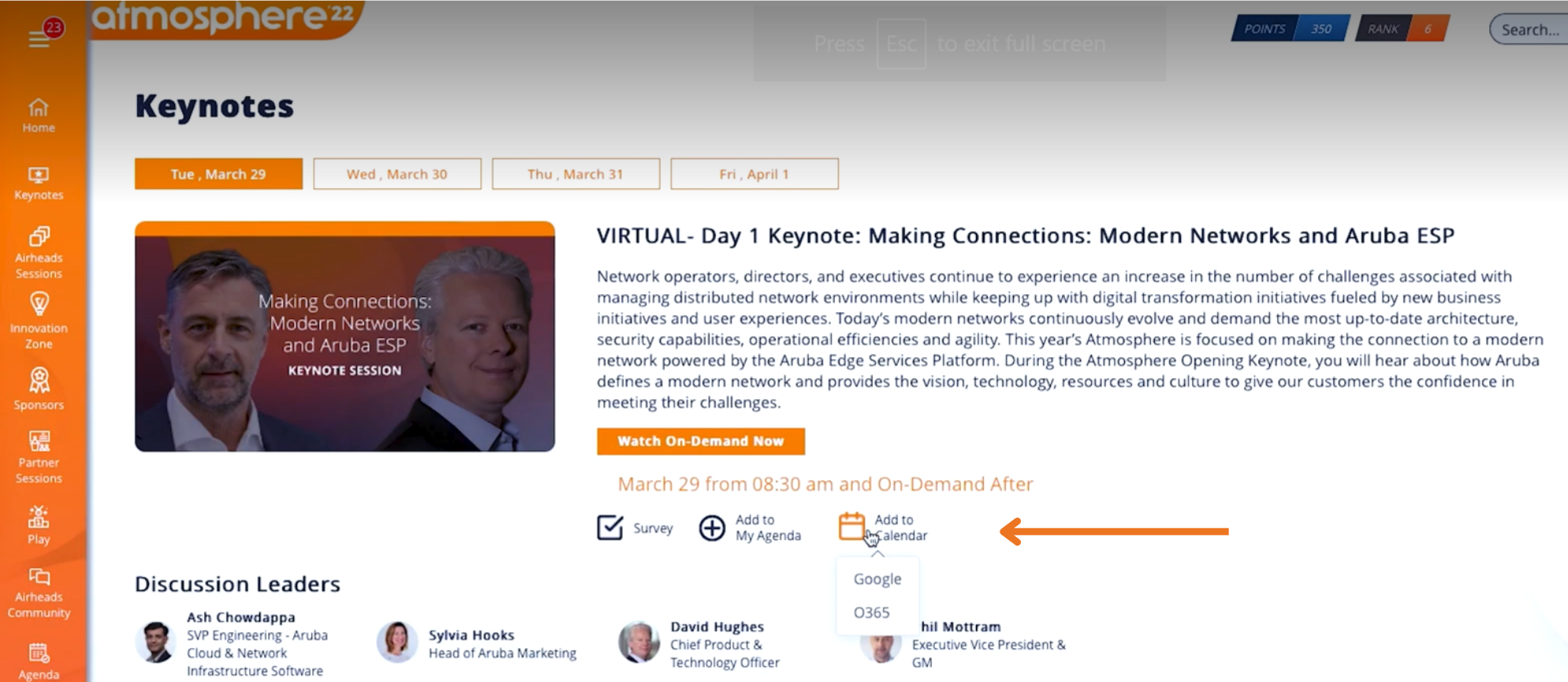 As a conference that had many sessions, tracks, keynotes and access tiers, Aruba Atmosphere needed an easier way to offer each attendee a personalized agenda as well as the ability to continue browsing and adding events to their personal calendar. Through the event app and virtual platform, attendees could login to see key details such as the date & time, session and speaker descriptions of each event they registered for and explore and join related ones. To help them stay on track, attendees were also able to add each event to their personal calendars and join sessions live and on-demand, directly through their agenda, for easy access.
Innovation Zone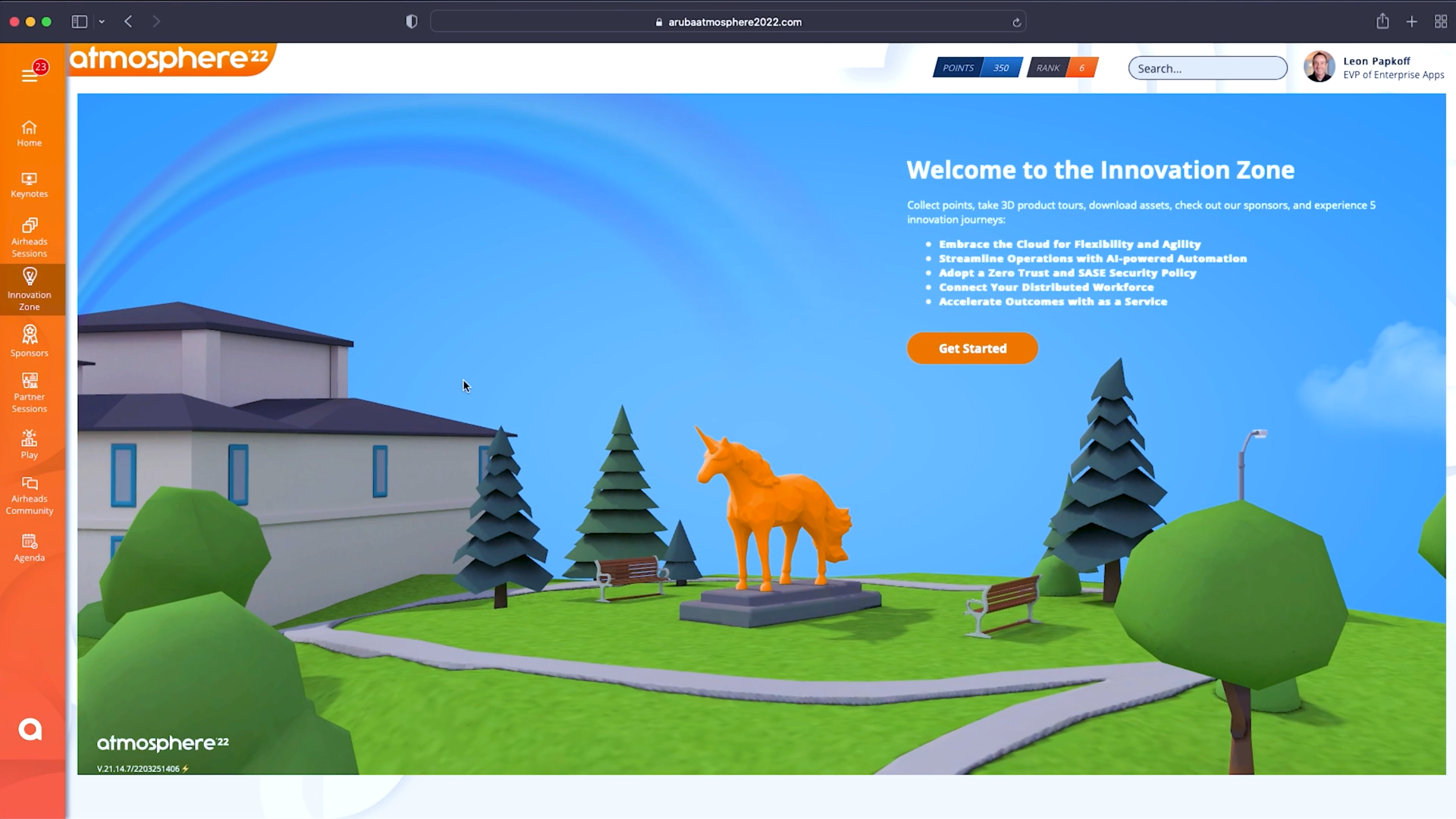 For attendees attending virtually, Aruba Atmosphere 2022's virtual platform offered them a one-of-a-kind 3D experience modelled after the in-person Innovation Zone. This gave them a new way to interact with and learn about trending topics, products and sponsors with an added sense of space and exploration, all from the comfort of their own home. By "walking" through the virtual Innovation Zone, attendees could go through different journeys and take 3D product tours, get exclusive in-app content and more.
Meeting Center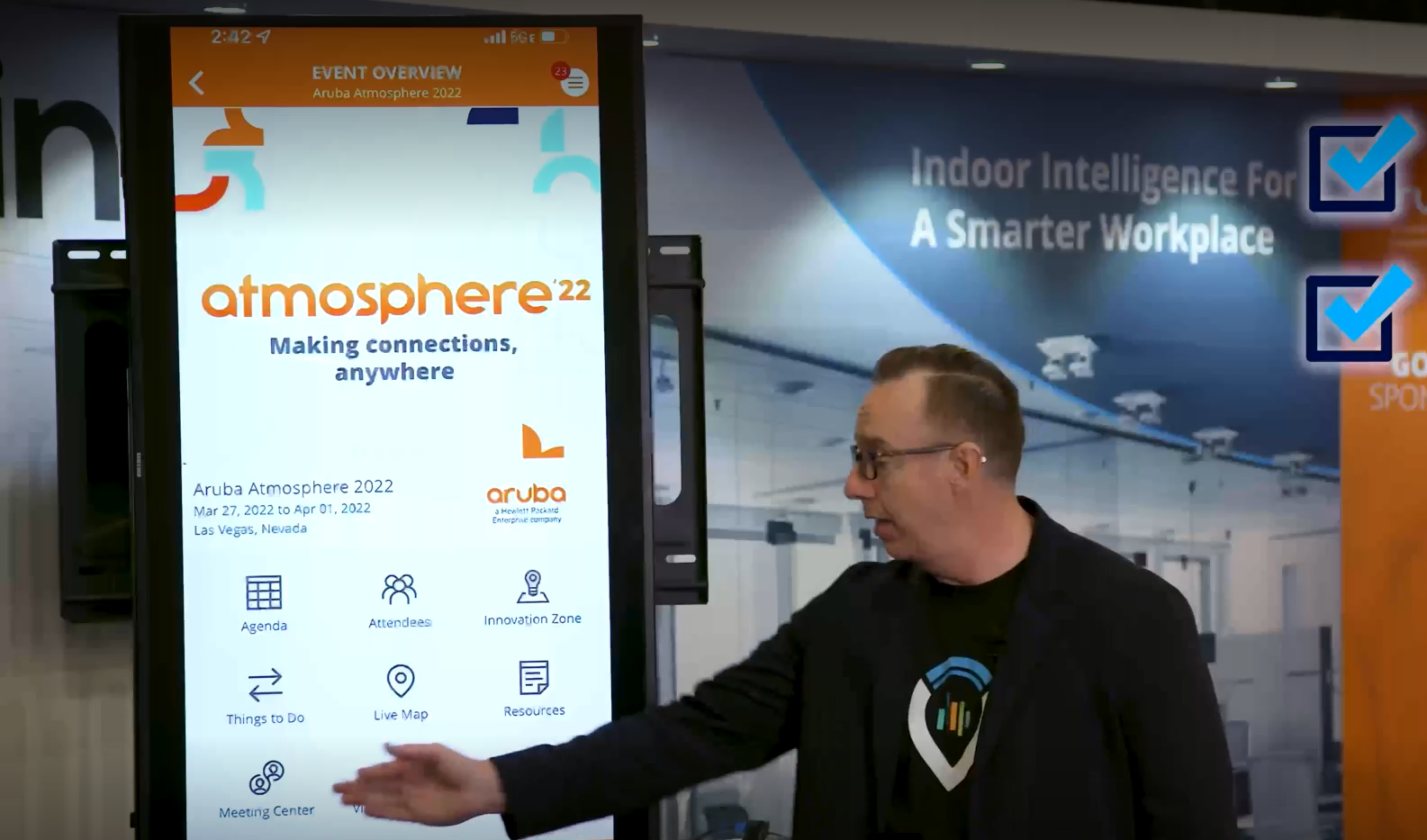 The meeting center is a special feature created for Aruba Networks partners and customers that allows them to schedule one-on-one meetings for private demos and presentations with prospects at the venue easily and seamlessly. Instead of having to manually coordinate room booking, set up a calendar invite and email automation, sales teams were able to set up everything in their Aruba Atmosphere event app in minutes.
Activity Stream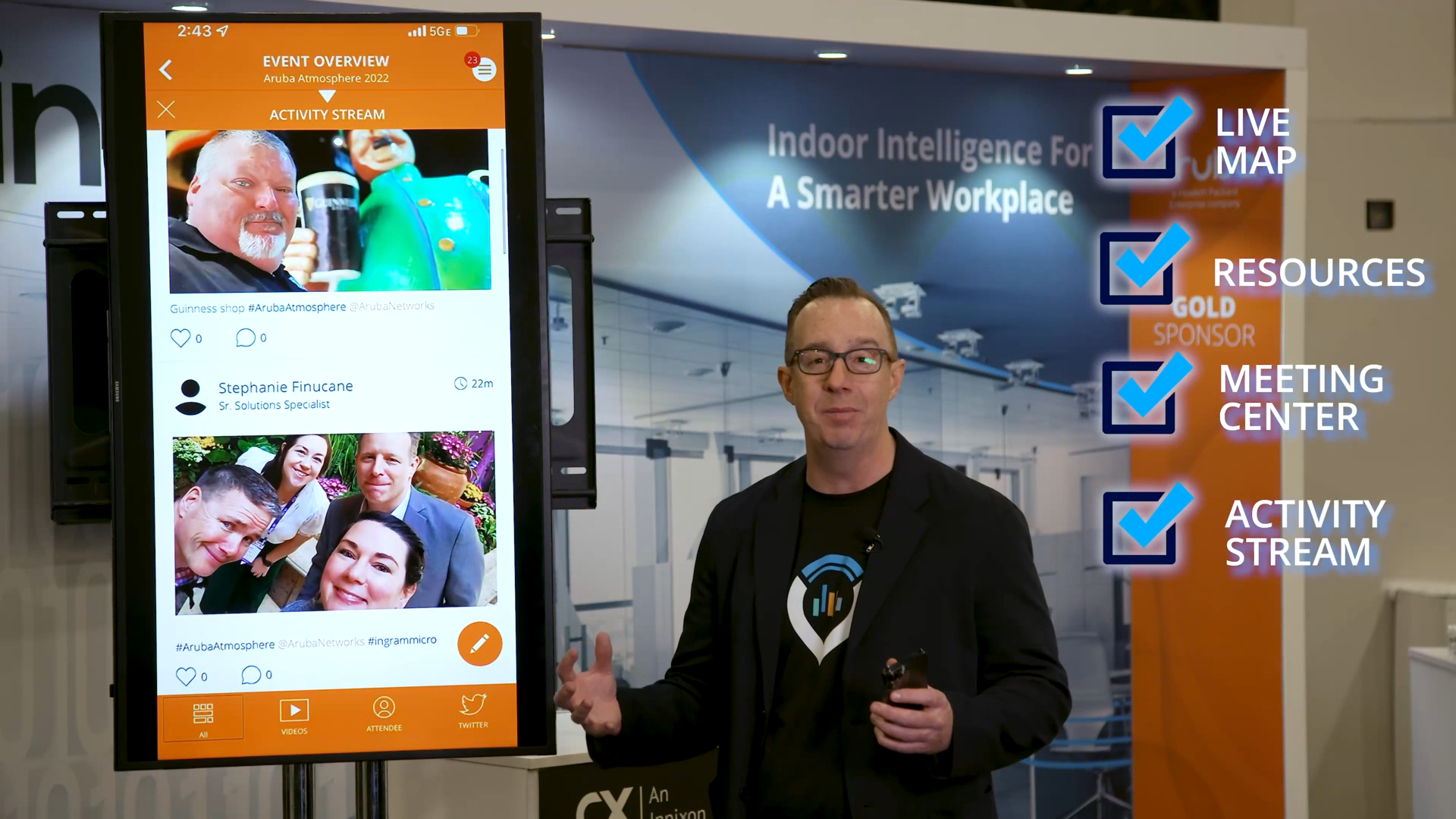 The event platform had an attendees-only activity stream that allows attendees to post content and interact with one another through likes and comments, which gave in-person and virtual attendees a unique way to express themselves and share their key insights and favorite moments at the conference, during the event itself. Throughout the event, attendees shared exciting demos, photos of Las Vegas and group pictures from long-awaited meetups. For Aruba Networks, the activity stream elevated engagement and connectivity for attendees on multiple levels, giving them a fun way to be seen and learn about one another, whether they were attending in-person or virtually.
Health Check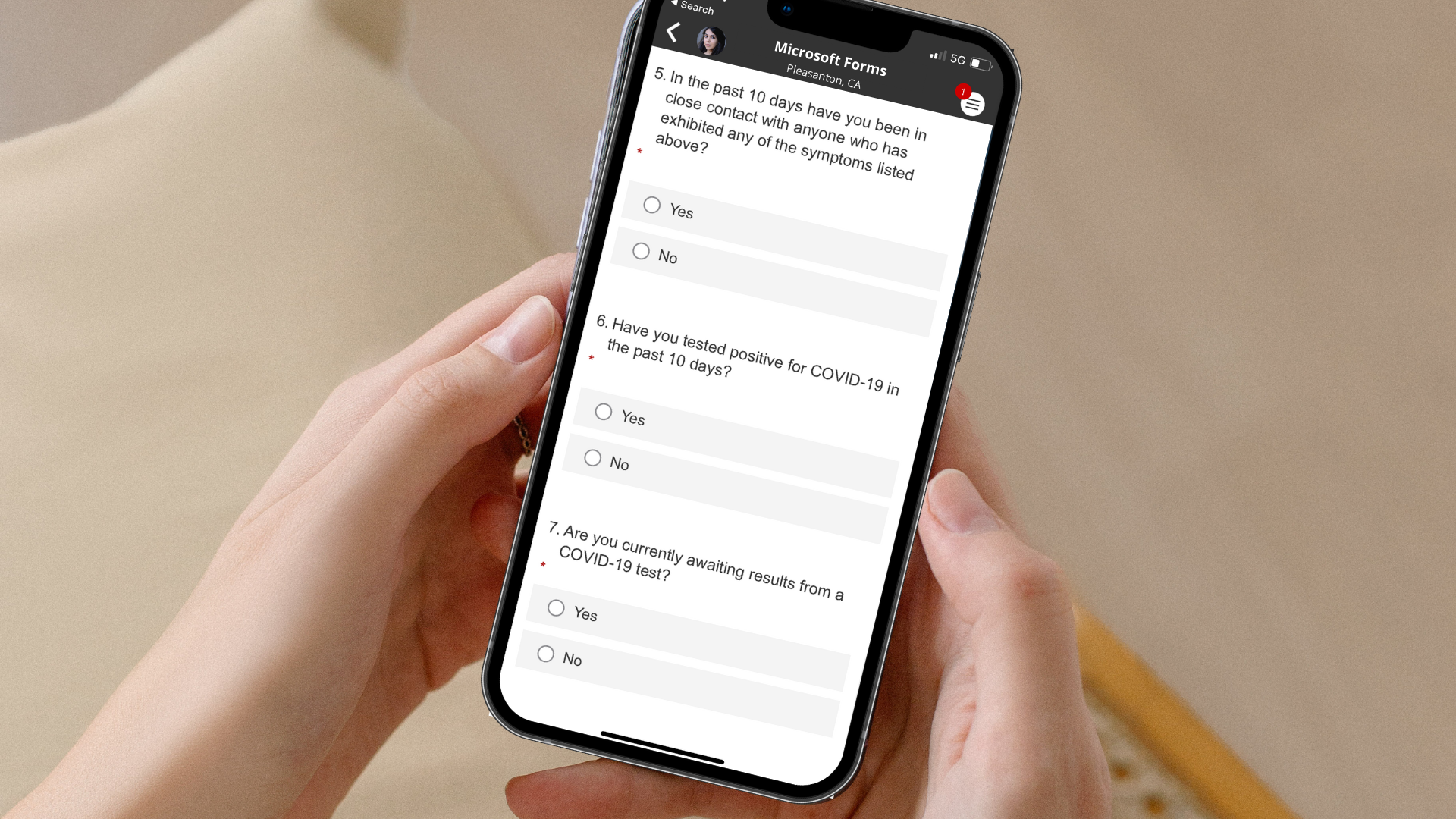 The safety of attendees and employees was incredibly important to Aruba Networks, which is why there was a Health Check section on the platform. Screenings and checks for COVID-19 symptoms were the way forward for ensuring this safety, but manual processing often takes a long time and can dampen the attendee experience. That's where the event platform came in. Through automated check-ins, attendees can attach proof of vaccination and confirm a lack of symptoms, all through their app, so they can begin enjoying the event sooner. This also added a vital level of safety to the event, ensuring that attendees could be reassured that they would not be exposed to COVID-19 and that fellow participants had been following vaccination and health procedures
Surveys for Every Session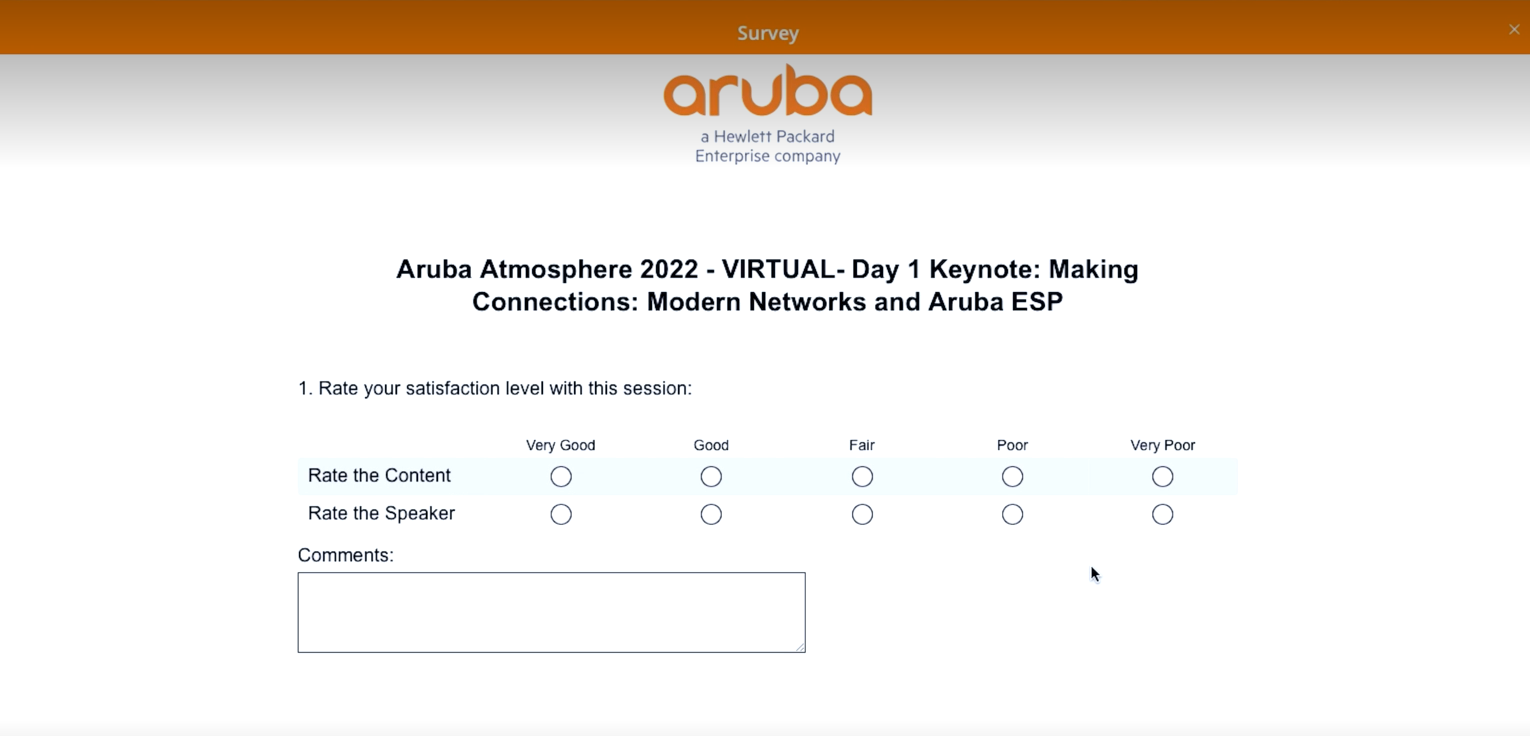 On the events platform, surveys were available for every session so speakers could get instant feedback without having to send additional communication to the already overcrowded inboxes of attendees. They're also a great way for the organizers of Aruba Atmosphere to gather and centralize data on the efficacy of each event without having to manually touch base with each speaker and aggregate data. This made the process on both ends much easier. Attendees could click a button right next to their join link, on their personalized agenda to answer the survey (instead of having to look for it or write on a piece of paper), organizers could gather data on each of their sessions, immediately after it finished.
What's Next with CXApp Events
CXApp continues to support leading organizations with their corporate event strategies from 100% virtual, to in-person and often a mixture of both. We are committed to ongoing innovation with our events management solution by including Internet of Things (IoT) to gather indoor intelligence - this data will provide key insights from event occupancy to overall engagement. In the future, CXApp also looks forward to adding mixed realities like augmented and virtual reality, to deliver the metaverse experience.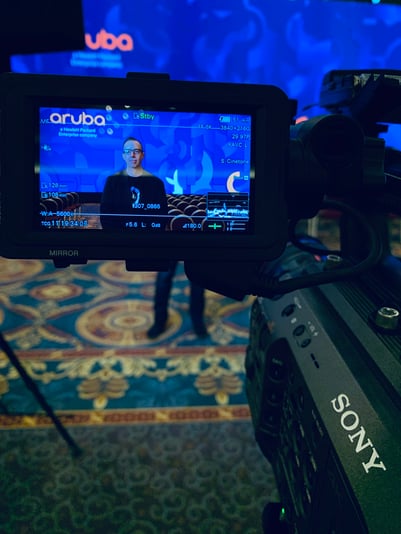 Topics Covered