The Workplace Experience Manager Role & Responsibilities
March 14, 2023

Andrea Williams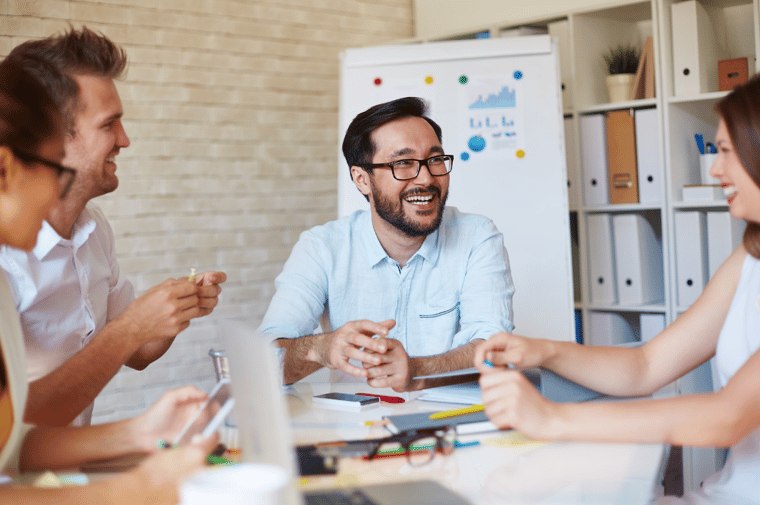 Building a strong, fun, and productive company culture that employees want to be a part of is a pre-requisite for the modern workplace experience.
Over the last couple of years we've seen a rise in roles & titles for managing hybrid work - from Employee Engagement Specialists to Workplace Wellness Consultants. One of the most popular roles that's emerged is the Workplace Experience Manager. The role continues to shift and evolve in line with the evolving workplace, changing market trends, and emerging technologies - but what's persistent is the responsibility to drive great employee experiences, regardless of location.

What is a Workplace Experience Manager?
The main function of the workplace experience manager is to prioritize the employee experience, whether working in-person, remote, or hybrid.
With increasingly distributed workforces, it's become more complicated than ever to create a unified experience for all employees, and facilitate a culture where every one of them feels valued — this is where the workplace experience manager comes in. This role also helps companies effectively execute any transitions towards a hybrid or flexible work model, by ensuring that employees are taking full advantage of workplace tools, technology investments and in-office resources and amenities.
Here are some core functions of the workplace experience manager role and why it's so important.
What Do Workplace Experience Managers Do?
They Optimize Operational Touchpoints
By focusing on agile and flexible workplace strategies that foster fast-paces, workplace experience managers can help shape high growth, productive environments that benefit all employees.
The workplace experience manager will generally be involved in understanding the wants and needs of employees and creating a strategy to optimize their experience wherever possible. This can include making sure the office space and design is desirable and promotes productivity and ensuring that employees have the tools and technologies needed to collaborate with their global teams. It's also crucial to constantly stay on top of employee needs to attract new talent and keep your best employees.
They Identify Experiential Needs
Workplace experience managers can drive employee engagement and create an environment that attracts and retains talent through a sought-after work culture, by truly understanding their workforce.
This can come through regular employee surveys, measuring employee saturation, and always offering the ability to provide feedback. They might identify experiential needs such as opportunities for mobile food ordering, ways to sign up for on-site events, including more gamification to increase participation in company-wide campaigns or being able to interact with digital signs and kiosks in the workplace. It's also important to ensure that employee feedback is always taken into consideration so employees feel heard and encouraged to continue providing feedback. This can be done by presenting anonymous survey results in monthly All-Hands calls, so all employees can see what the survey results are and hear how the organization is taking action.
They Refine Services
Delivering service offerings that are consistent across all groups around the organization involves prioritizing customers, employees, partners, vendors for maximum efficiencies.
To make this all happen, workplace experience managers may suggest investing in a workplace platform that integrates with a variety of conferencing & collaboration tools, marketing channels & software, office mapping & wayfinding technologies, security services etc. Many platforms may be limited in nature, so prioritizing a platform that can scale with your operational goals is key.

They Streamline Workflows
This involves looking to technology and automation when possible, to provide streamlined access to capabilities and insights that impact the day to day.
An example is investing in a workplace experience platform where employees can get access to meetings and workshops, engage with other employees on a company-wide feed, get access to corporate resources or even book their desk for the next time they visit the office. Having these resources helps streamline workflows, especially as organizations are prioritizing a mobile-first experience.
Why Are Companies Investing in Workplace Experience Managers?
Now more than ever, employees are spending their time communicating with colleagues on their laptop or mobile devices, especially with the rise of hybrid work. Without the necessary tools to keep them engaged, many employees start to disconnect from their company, and this kind of disengaged employee can cost businesses — up to 34% for every $10,000 in annual salary. In 2020, a global study found that 59% of employees are actively or passively disengaged.
Engagement and disengagement numbers of course rely on different things. Not feeling valued, unproductive environments, low morale, minimal interactions with others etc. So it goes without saying that to get your employees 'engaged' at work, will take quite some effort and may need to be addressed in several different ways. But the need is prevalent.
Another need employees have as they manage a better work-life balance is flexibility - in fact, 76% of employees say they want their company to make work permanently flexible in terms of things like schedule and/or location.
But when it comes to the workplace, trends point to employees feeling more emotionally and professionally fulfilled at work because they feel they are a part of something and of course believe in the work itself. An easy win for most organizations is to adopt trends that help build a workplace experience culture that is vibrant. A 2019 Glassdoor survey found that 56% of workers ranked a strong workplace culture as more important than salary — and this was before the pandemic.
To do that, workplace experience managers are responsible for delivering "experiences" throughout the organization's facilities - starting with their employees and trickling through to vendors, visitors, and even customers. Always remember, good EX (employee experience) leads to great CX (customer experience.)
The Rise of the Workplace SuperApp
Learn how a Workplace SuperApp can redefine the benchmark for employee experience & workplace intelligence in an increasingly hybrid world of work.
Topics Covered