Key Integrations that Extend & Enhance Employee Apps
August 13, 2021

Alex Le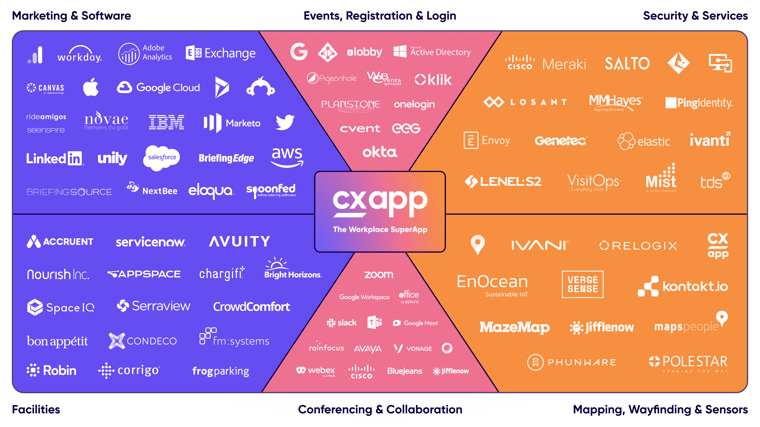 When it comes to workplace experience, a smart campus app can be a powerful tool to keep employees engaged, informed and excited. With powerful features such as desk booking, reserving meeting rooms, finding a parking spot, locating colleagues and more, an open ecosystem with integrations can elevate the user experience and provide organizations with added value. Integrations are a pivotal consideration when looking for employee experience solutions as the result streamlines multiple use cases through one app, one experience.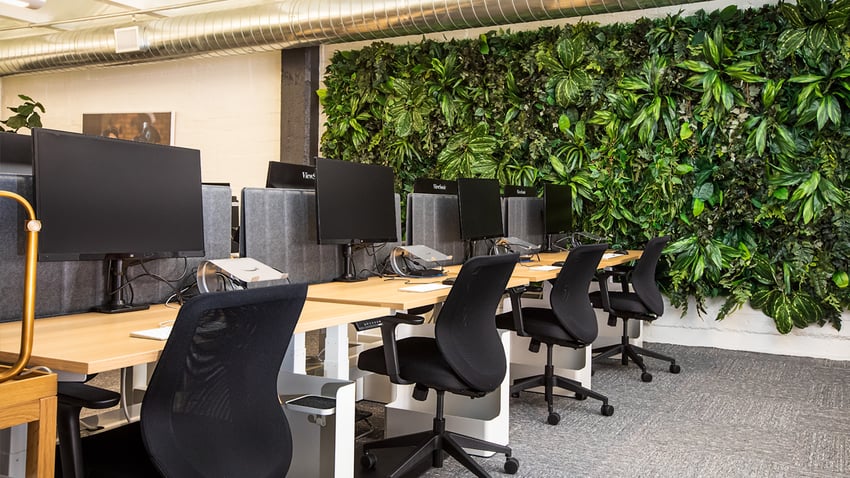 CXApp's Workplace SuperApp was designed to work seamlessly with outside technology providers, apps, and systems. With over 75 integrations ranging from access protocol systems and authentication to collaboration and communication tools, space management systems, safety applications and more, CXApp provides you with a powerful platform to meet your holistic workplace ecosystem needs. That being said, let's explore in more detail some of the popular integrations organizations often look for when evaluating smart campus apps.
Desk Booking
Implementing a desk booking system can make it easy for employees to find a space to work from for the day and allows them to choose times and spaces that meet their criteria. Depending on the flexibility and architecture of a system, there are various methods organizations can leverage when incorporating desk scheduling software into a workplace experience solution:
Using native desk scheduling features available directly within the platform (like CXApp's desk booking software)

Via integration with standard calendaring and email tools (CXApp's smart campus solution supports these types of integrations)

Via integration with other solution providers and thir

d

-party scheduling tools (CXApp's smart campus solution supports these types of integrations)
Why would somebody want desk booking software? Desk booking is ideal for companies that need a centralized system for managing desks, seats, and shared spaces as well as front-end mobile app for employees to book, search and schedule their workstations on-the-go.
Desk booking applications can be stand-alone applications or part of a more comprehensive solution that delivers smart, automated interactions while transitioning between work environments. The latter may be a more suitable and futureproof option for global companies that need reliable, scalable, integrated technology for their workplace experience solution. Learn more about the benefits of office hoteling.
Mapping
When it comes to large public venues such as a corporate campus, indoor maps guide users across your multiple buildings and floors with turn-by-turn directions on a digital map. Because live maps support indoor-outdoor transitions, the experience is never interrupted and can even extend to help staff and visitors locate parking spots.
CXApp's live building maps use Bluetooth beacons and Wi-Fi to sense a user's position within a facility and helps them to effortlessly navigate indoors with that familiar blue dot experience - whether you're trying to locate a conference room, navigate to your reserved desk, or even find a colleague's desk in an adjacent building. Interactive, searchable, always-on maps transform the user experience in physical spaces.
Resource Permissions
Active Directory
Organizations of all sizes use Active Directory to help manage permissions and control access to critical network resources.
Active Directory is a directory service that runs on the Microsoft Windows Server. The main functions allow administrators to control access to network resources and manage permissions. Data can include users, groups, applications, and devices.
This integration especially helps with desk booking for real-time headcounts. This can help IT teams manage the space and adjust to accommodate the office for larger/smaller headcounts according to the analytics.
Microsoft Exchange
For organizations that leverage the Microsoft suite, they are able to use multiple features all from one platform. Key to the mobile app experience is allowing employees to view room visibility and book spaces, such as conference rooms or boardrooms, directly from the mobile app. To do so, a mobile app system is required to have permission to access this Exchange information through Microsoft's Graph API with specific scopes.
Single Sign-On (SSO)
Single Sign-On leverages your company's secure authentication portals in combination with a smart campus application's login processes so users only have to enter a single username and password across apps and devices as defined by your organization's IT compliance standards.
SSO technology essentially streamlines password management and provides a simplified user experience. This is a great benefit for companies, as the ability to seamlessly sign-in to a portfolio of different applications with one profile removes points of friction and can help with app adoption. Since data privacy and security is increasingly critical for the digital workplace, mitigating concerns around multiple forms of authentication should help IT teams manage their tech stack more effectively.
Visitor Management
A visitor management system helps IT teams manage guests that enter corporate campuses — this can be external colleagues, partners, vendors, and even customers. Integration with a visitor management system allows for a more intuitive guest management experience through the mobile app. This is a powerful tool and helps keep guest management streamlined and secure, especially for large campuses. Sending an alert to the sponsor that will be hosting a guest expedites the guest management process and helps with familiarizing customers, vendors, and others amidst a first-time interaction. Hosts across your venue will instantly be alerted when their visitor has arrived and receive contextual information as to where their guest is located and even what they look like - so they can easily be located and identified.
Facilities Management
Facilities management helps the appropriate teams manage various resources available to employees. Organizations can benefit from having a central command center for managing operations across an entire smart campus through a single, integrated portal. That's where facilities management software comes in - and shines. With features such as spaces, service requests, cleaning requests and more — it allows the necessary teams to bridge the gap between the workforce and their work environments while ensuring they are safe, comfortable, compliant and productive.
You can easily monitor and control facilities requests and operations on the go, especially important for back-to-work processes for large organizations where employees are only on-site for limited times a few days a week.
How Can CXApp Help?
While this is not a comprehensive list of all the types of integrations available for a workplace experience solution, there are multiple use cases that can benefit from using the features listed above. Having the ability to incorporate integrations into your workplace app comes with a long list of benefits, most notably desk booking and mapping which allows for your staff and operations to run a hybrid workplace more smoothly while providing a consistent experience for all employees.
Integration success starts with a platform that is built to support them. Many platforms are limited by the framework in which they are built. This ultimately results in you having to fit into a mold of pre-determined services. It also limits your ability to scale and evolve as your workplace needs change. With that in mind, the most important thing to consider when evaluating technology for the workplace and building out a cohesive end-user experience, is to make sure your technology is flexible and able to scale with your operational goals. If the technology is inflexible, then you're already starting off with a stagnant approach to building a better place to work.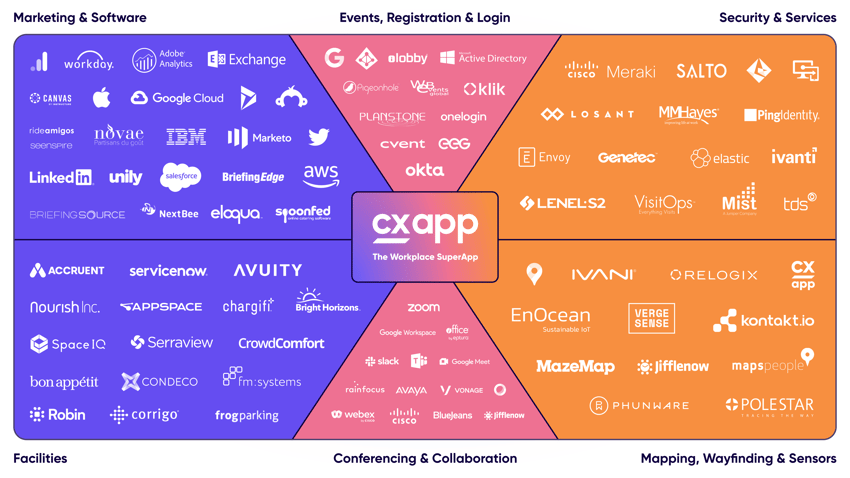 If your organization is looking to implement similar integrations into your workplace ecosystem, CXApp's Workplace SuperApp is a great starting point.
Schedule a 15-minute meeting with our workplace experience experts to learn how our integrations can benefit your organization.
Topics Covered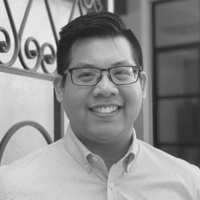 Alex Le
Alex is the Regional Sales Manager at CXApp. Specializing in digitizing the corporate office and enhancing the mobile employee experience.