Virtual and Hybrid Event Tech Trends For Better Attendee Experiences
December 15, 2020

Andrea Williams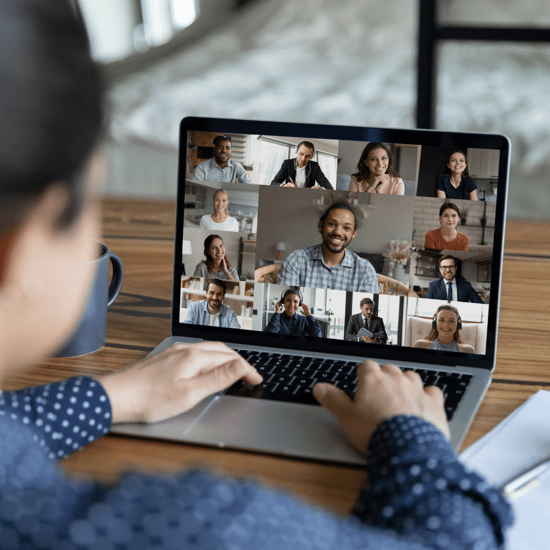 Like it or not, the world is a different place now than it was even just a half a year ago. Everyone, and every business, has been affected.
In February, we were poised to support dozens of live events throughout the 2020 calendar year and scheduled to attend just as many industry events. Our calendar was chock full and everything looked grand.
Then we entered March. The telltale signs appeared, things were about to get real hairy, but the best way to describe the general sentiment was denial. Most events were being "postponed," not canceled. Large-scale event deadlines were pushed back to mid-summer. Everyone seemed to be talking about a minor or temporary shift.
By the end of April, however, we all realized what we were in for. The industry, albeit reluctantly, began using the word "canceled" for many tentpole events. No reschedules, no room for potential change, just straight-up canceled and done.
Many companies pivoted to digital and online platforms, with virtual events forming the cornerstone of the year's best-attempt experiences. According to reports, 70% of event professionals and suppliers moved their face-to-face events to a virtual platform. Of those professionals, 69% hosted webinar-style sessions, while 62% live-streamed keynote speakers.
While the technology has existed for quite some time, no one ever really planned for this kind of scenario, so many of the platforms utilized were simply not up to the task. Even so, the default standard was using live-stream and virtual conferencing tools to broadcast 'event-style' content from 1:many.
The reality is these virtual events were nothing more than a band-aid, slapped over a large, gaping wound. Luckily, event productions — of all sizes — have been able to use the last 8 months to learn, grow, and evolve their global events strategy. It's afforded the industry plenty of time to build upon the average virtual experience, turning that band-aid into a proper wrapping.
What Next?
For virtual events, 80% of attendees say they're keen to experience a live event in-person sometime within the next 12 months. People are ready, but that doesn't mean the organizations are.
As the corporate world moves back to a structure of live and in-person events, we'll need to take stock of what technology is available and practical. Hybrid events will be a huge focus going forward, allowing attendees to choose how they want to participate, whether in person or remotely. Understanding where we can improve these foundational technologies to deliver better experiences is imperative.
Event Tech Trends To Future-Proof Hybrid Event Experiences
In this new era of emergent and hybrid experiences, companies are doubling down on attendee engagement. The trick is discerning where people are, especially if they're remotely attending. Virtual event platforms, mobile event apps, and supportive technologies will allow event managers to build online and offline interactions that engage all audiences.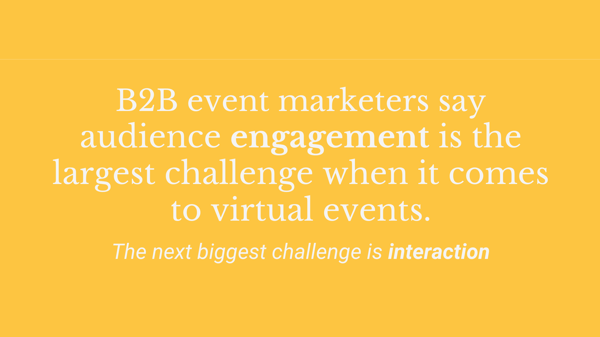 These event tech trends give us a better view of what event experiences will look like in this new era:
#1 Cross-Platform Capabilities
Organizations and event planners will need robust event technology to support hybrid experiences. The solutions must allow for dynamic opportunities that can be experienced anywhere, anytime.
Consider the journey of the average attendee. They'll be moving between locations, networking with small groups, and moving back and forth between the office, their hotel room, the convention center, restaurants etc.
Successful platform accessibility means accommodating these new experiences and channels with seamless transition between devices and platforms that can provide contextually-aware, immersive experiences.
#2 Variable Session Tools
Let's face it, when it comes to virtual, your audience is already fragmented. You're competing against children, unproductive workspaces, short attention spans, other screens, and more. About 20% of all attendees view virtual events and sessions on-demand.
You must be able to deliver and support a mixture of on-demand and live sessions to really harness the power of your event agendas and session. That means allowing attendees to join, in real-time, revisit content later, and access new content on-demand on the day(s) of your event and even well after.
#3 Interactive Features
Engagement is the cornerstone of any successful event, and interactive solutions can increase and maintain it. Growing attendee experience solutions must support polling, Q&As, survey, gamification and similar activities to keep people checked-in and active.
Additionally, these types of tools, especially real-time polling help gauge audience sentiment and gather immediate feedback that can help guide the conversation by keeping the topic relevant to the masses.
#4 Revised Event Programming
To match shorter attention spans and busy workdays at home or work, shorter sessions are necessary. And content needs to be produced in bite-sized or consumable pieces. This accommodates the new work day and unique 'office' locations many of us are all faced with a bit better.
As event agendas shift and session content transforms, the technology being used also needs to shift. It's not a one-size-fits-all opportunity. Different types of sessions will work more efficiently with different types of streaming or media tools.
Keynotes are clearly best done through live streaming, but what about coffee breaks, or intimate rooms for 1:1 or networking, and even a tool that can better serve a small panel or roundtable with multiple speakers and audience interaction. Event managers will look to platforms that can handle these agile types of event content and interaction points.
#5 Usability
If a solution is not user-friendly, easy to join, and easy to disconnect from, no one is going to use it. A reliable platform allows for seamless drop-in and drop-out opportunities for each activity and session.
There should never be any requirements to download additional software or applications. It should all be accessible through a single portal, across many devices from mobile to desktop.
#6 Contact Tracing
Contact tracing is a necessary evil in today's landscape. For those that choose to attend in person or on a smaller scale, contact tracing apps and/or peer-to-peer social distancing technology can help not only mitigate exposure but also communicate if/when an infection occurs.
This is true for event attendees and the physical elements they come into contact with. If an in-person event becomes a health hazard then planners and managers need to know and take action, as soon as possible.
#7 Real-time Check-Ins
Your chosen event technology should have the capacity to check-in attendees automatically as they join sessions, whether virtual or in-person. This helps with crowd control, of significant importance for live events.
Integration with sensors and beacons can help with physical tracking and live wayfinding across event venues. These types of connected IoT devices can also measure and report traffic, making it much easier to monitor capacity limits and setup restrictions when in-person thresholds are met.
#8 Dynamic Experiences
Many people have unique learning styles, like hands-on versus visual. Combined and dynamic experiences must be possible to increase the effectiveness of a session and bring everyone into the fold. Event professionals should be able to include sensory experiences and physical kits that can be enjoyed together or from remote locations.
An example would be sending a DIY snow globe kit during a holiday event, allowing everyone to put together their decoration at the same time. In-home cocktail tastings instructor-led cooking demos through a virtual platform are also trending.
#9 Event-Based Communities
Due to social and physical limitations, event organizers have begun opening up online communities and networking forums for year-round use in between events. Historically, multi-day events have built-in networking opportunities and mixers where event attendees get to be social and connect with each other.
Now that we're virtual - event strategists are looking for ways to re-activate that component of events that attendees and members found beneficial. This keeps everyone in-touch, contributing, and on-the-hook even when event programming has concluded. Ongoing virtual engagement opportunities are a great way to future-proof your event tactics.
#10 Innovative Role Support
To support many of these trends, new experiences, and innovative technologies, new roles are coming to the forefront to support virtual experiences and the shift to hybrid event management.
Social media moderators, virtual event producers, technical and staging support, emcees, event tech evangelists etc are all emerging or even shifting jobs that are required in the new age event program. And as we see people slowly being to attend events in-person, mobile app specialists will reemerge to help support this transition.
Event Technology and the Transformed Event Industry
Going forward, the primary goal of business events remain the same, to provide excellent attendee experiences that move business and relationships forward. However, it's how we manage and execute those experiences that are going to differ from past solutions.
Here's what event professionals should be focused on:
Bringing people together even across varied locations
Creating interest in events, sessions, and offerings
Providing ongoing, easily accessible knowledge
Continuing conversations and contact after an event has finished
These goals and event tech trends help support core event management strategies, whether live or virtual.
Topics Covered