Building Workplace Experience in a Work-from-Anywhere World
March 23, 2021

Andrea Williams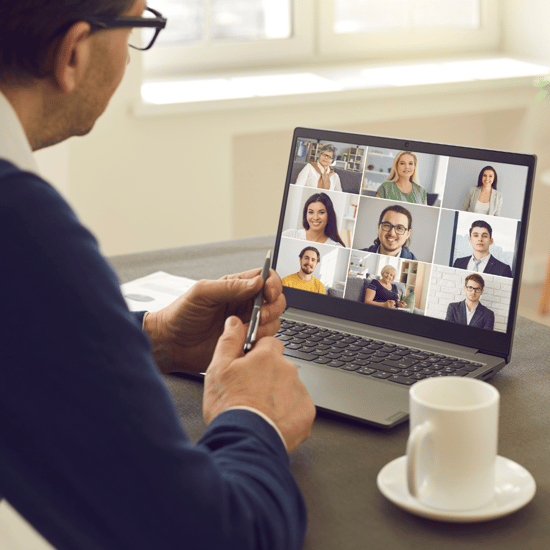 A restructured and dynamic workplace experience is needed to meet the demands of the future of work.
Workplace experience is a dedicated program that proactively focuses on human-related interactions through the use of employee-first interactions, intelligent office designs, modern technologies, and cultural response. The best way to measure it, in the simplest terms, is to look at how many opportunities are being offered to employees to be their best, do their best work, and work for the best company!
From a Forbes Insights report, 70% of executives agree that improved EX leads to improved CX, and in turn creates rapid revenue growth.
Because the future of the workplace is now distributed - an effective workplace experience must also accommodate employees whether they're at home, on-site, or somewhere in between.
To make it all work, for the hyper distributed workforce of today, you must incorporate digital workforce touchpoints.
What Are Digital Workforce Touchpoints?
Part of the digital transformation of company culture involves rewriting or recreating experiences to collect, process, manage, and distribute digital content work-wide.
In this way, companies may be able to overcome the digital workplace's deficits and ambiguities by embracing more positive aspects like flexibility and leveraging data generated by the workforce's tools and platforms to create more personalized experiences.
Distributed workforce technology allows operations to continue, without interruption, across a variety of locations and systems - allowing remote work to reach its full potential while improving traditional office environment expectation.
The Driving Factor: Workplace Expectations
There must be something driving all of this change, right? Besides the distributed workforce COVID-19 created, workplace expectations are to blame.
Many leading enterprises have changed their workplace expectations, namely by shifting to a new strategy to support modern roles and on-the-go access to different 'office environments'. But the question of how and when large, densely populated companies open their doors to the workforce.
Here's what we're seeing across the board (*hint, it varies company by company):
Companies now offering permanent work from home options: Dropbox, Microsoft, Twitter, Salesforce, Shopify, Square, Starbucks, and Target
Companies planning a summer 2021 re-entry: Cisco, Amazon, Microsoft, and Salesforce
Companies still working on communicating back-to-work expectations: Adobe, Fox Corporation, Target, and Google
Companies meaningfully planning a hybrid strategy: BP, Spotify, American Express, and Reddit
With all of these changes happening at different intervals across different locations and regions how do we keep workers happy, engaged, and productive?
Thriving in a Work-from-Anywhere World
Processes, people, and technology are the 3 primary components for thriving in the work-from-anywhere world. Each can be defined by a simple question:
How does a workplace support its people and provide engaging experiences?
How does the workplace reinforce a process and leverage it to build culture?
How does technology aid in creating seamless experiences across all of these fronts?
If you're looking to take advantage of distributed workforce best practices, you'll want to consider these components or pillars. Together, they serve as a foundation for solid and productive work-from-anywhere programs.
Emerging Workplace Expectations
What are workplace expectations and how do they affect the employee experience? What does this have to do with a hybrid or distributed workforce? Let's take a look at emerging workplace settings and identify the experiences employees expect, touchpoints to keep them connected, and the benefits of different settings.
#1 Work from the office
Experiences: When on-site, workers expect more automated and personalized interactions. Such as an intuitive scheduling system for appointments that provides real-time information on location, availability, and remote access. The rise of the smart office is upon us, and it's where all physical and digital touchpoints are seamlessly integrated into a unified and holistic employee journey.
Benefits: Employees gain access to more immersive on-site experiences, with spontaneous collaboration opportunities, water-cooler talk resumes, and a huge networking boost with direct access to colleagues and executive profiles. Employee engagement is inherently enhanced by this setup.
Touchpoints:
Touchless interactions to minimize contact and support automation
Desk booking to reserve a seat based on daily work needs
Conference room scheduling for on-site meetings and on-demand collaboration
Mobile food ordering for convenience
Activity reservations and access to bookable spaces
Location services to help you find your way around the campus
Personalized suggestions and daily promotions based on who you are and where you are
In-person events to keep spirits and momentum up
#2 Work from home
Experiences: Workers expect to be able to move effortlessly from platform to platform with the help of digital collaboration tools. They must be able to connect to their workplace systems and carry out other office-related activities, from the comfort of their home, without feeling too isolated from the workplace culture.
Benefits: Running an effective —work from home' experience calls for the creation of a mini campus, built around each employee's home base. Employee experience solutions must offer the same content, interactions, and —perks' as they would get on-site. The home or home office is basically a secondary official work location. Workers need an easy connection point to preserves a sense of belonging. It also means that productivity remains high as commute times decrease or are non-existent and employees feel more empowered thanks to a sense of a flexible office ownership -where they manage timeline and schedules - allowing more creativity and freedom to complete tasks or work.
Touchpoints:
Virtual conferencing to join a meeting at any time
Streaming newsfeeds to stay up to date with the latest company announcements
Work-related podcast capabilities to stay informed on the go
Work from home tips
Daily meal suggestions in place of an on-site cafe
Virtual workout groups and events to boost mental and physical health
Real-time alerts for up-to-the-minute notifications
Personalized content and suggestions that match your office settings and interests
#3 Work from a remote location/office
Experiences: Some workers travel frequently, bouncing between multiple locations, but it's important to keep them grounded through seamless access. This is especially true for roles that are often on the road like sales, events, real estate, operations, the C-Suite, and more. As such, the experiences must mirror each other to provide a coherent and similar program, regardless of location. Having a repeatable process with a mobile command center, for managing multiple locations, makes it easy for traveling employees to switch yet feel minimal friction.
Benefits: Everyone has the opportunity to work remote from a familiar interface, which helps with networking and cross-functional teamwork. It also helps you learn about regional cultures, workplace expectations, and aids in the management of the day-to-day by maintaining consistency. Large organizations with multiple campuses need a warm, welcoming, and open-door policy for all employees to ensure work is never put on hold, regardless of location, and innovation always has the chance to thrive.
Touchpoints: While the touchpoints are the same as working from a normal office, they must mirror where you are located at any given time.
Indoor office mapping and wayfinding to familiarize yourself with unfamiliar spaces
Access to regional/local news where your remote office is located
Instant alerts for on-site information and safety
In-person or virtual meeting attendance capabilities
The ability to find a colleague and locate key personnel at your current location
Work From Anywhere
Changing up the game completely, work-from-anywhere means allowing employees to work from any location, any environment, and nearly any configuration, whether desktop, mobile or something in between — like a tablet. This is where flexjobs come into play.
56% of CFOs say their companies are offering permanent remote work opportunities, while others state they miss the in-person benefit of collaboration and creativity, and are more eager to return to traditional office settings.
A work-from-anywhere strategy cannot exist without on-demand and always-on access to the closest campus. It also needs to have mobile-first touchpoints that connect employees to the digital and physical workplace experiences they need.
Where do we go from here?
Embracing a digital transformation is key, but namely a solution that supports omnichannel and mobile-first experiences - especially with the spike in remote jobs. The ideal system will provide a seamless and engaging experience for all employees, regardless of where they spend their time. You want workers off-site to have the same opportunities as your workers on-site.
To achieve this, set the vision or the mission on the right path. Align all strategies with executive and leadership buy-ins. Then, define and communicate protocols, processes, and expectations so there's a clear path to follow.
Finally, any strategies that are incorporated must provide value and actionable benefits to employees. You'll need to collect feedback on the policies and systems you establish to better understand if that's what's happening. Negative sentiment will tell you right away that something is not working.
The truly successful work-from-anywhere companies are the ones that embrace seamless engagements across all channels, locations, and touchpoints.
Topics Covered