The Big Companies Turning To Flex Office Space
October 20, 2020

Andrea Williams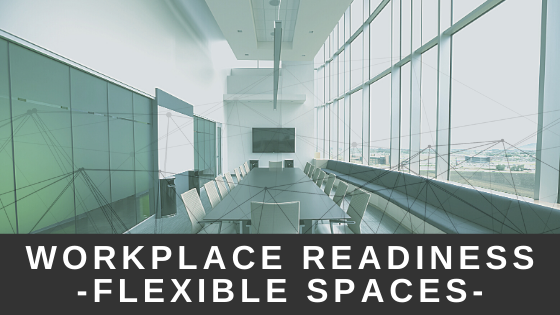 As companies plan their office re-entry and back to work strategies, there's only one way to go, and that's towards creating flex space. What's most important, however, is how that space is used.
Instead of viewing the future of work as an office-centric model or work-from-home model indefinitely, we should be viewing the workplace as an incredibly dynamic environment. In offices spaces are increasingly important, how they're used, how they're accessed, and what they can offer employees in terms of collaboration, flexibility, and adaptable seating plans.
That is precisely what flex space is and should be, in the modern landscape - highly adaptable to meet the needs of the ever-connected workplace.
How to Utilize Flex Space
As spaces become more agile and fluid, managing spaces becomes more complex. Another minor element of open systems is more flexible office seating, which involves the way workstations and desks are allocated. Traditionally, they're assigned and metered out either to individuals or large groups, but in a flexible environment they're left unoccupied until needed.
Hot desking, or hoteling, is an excellent system not just for organization, but also to bridge the gap between on-site and off-site workstyles.
With these smart and connected systems, no space or workstation is assigned, at least not in a traditional way. Instead, workers can book various rooms, desks, stations, and even pods as they are needed. The companies adopting these kinds of tools are upping their workplace readiness game
Examples of Companies Using Flex Space
The Denmark-headquartered energy company has a reboarding strategy in place to find a new way of doing things officeby putting health above all, reducing workplace density, and embracing technology for people and desk allocation around the office.
Crafted a fortified safety-first approach to reframe their workspaces, stages, and physical areas with revamped floor plans and exit/entry protocols as part of their return-to-work program.
Flexible spaces and communal areas at their Australia campus benchmark future office projects for more memorable and fun experiences with open office layouts and bookable meeting rooms.
Has put a focus on making offices more than a workplace, adopting a 'borderless office' concept to increase flexibility, productivity and communication across spaces and the workplace.
Is reshaping physical locations to look more like collaborative co-share workspaces as they think about office space differently.
Embraces a unified digital workplace and office hubs for in-person, community, mentorship, networking, and creative activities can still thrive.
Is looking at more space in buildings and using that space to embrace CDC guidelines for workplace wellness in addition to touchless interactions around the office.
Is redesigning all of their workspaces for reduced capacities including floors, meeting rooms, communal areas, lobbies, elevators etc.
Leverages activity-based working (ABW) environments to encourage employees to move around the open office plan and interact with different teams and personal spaces.
Uses collaborative spaces to dynamically transform areas for different group sizes and needs with different layouts and space planning goals.
What Can Flex Space Do for You?
On paper, it all sounds fantastic, but the looming question is what benefits do these kinds of systems truly offer?
Some of the more prominent benefits include:
High-flexibility or adaptability to ever-changing workplace requirements
Improved collaboration and co-opting potential
Enhanced structure and productivity
Reduced costs, especially from utility expenses
Better use of available space because it's assigned according to purpose
Boosted awareness thanks to smart and connected technologies
Always-on access for employees even off-site
Constant communication through mobile services
As some employees return to work in a traditional office, while others continue their remote work, it's necessary to create a hybrid work environment that accommodates everyone.
There's no sacrifice made in regards to collaboration, either. Workers can still cross-reference how stations are assigned or reserved, and better plan to work near or with their colleagues. The mobile workplace experience solutions that power these kinds of hoteling opportunities make it easy to communicate and sync up with others, no matter how far apart they are in the moment. Even if both parties are off-site, they can still work together to reserve seating or rooms nearby, as needed. It becomes a smart, ever-changing co-working space, as opposed to a more static floor-plan.
Depending on how the spaces and systems are established, these benefits may be more pronounced or less so. Moreover, they're not the only benefits that stem from flex offices and open workspaces.
In the end, an adaptable environment is key to meeting the needs of an ever-evolving workforce, especially one that's spread between on-site and off-site operations.
Topics Covered