Smart Desk Management in the Modern Workplace
March 9, 2023

Andrea Williams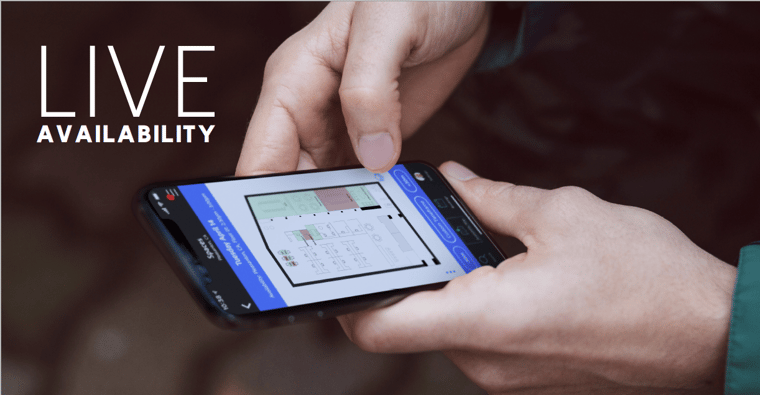 In a changing workplace, not every employee needs an assigned desk. Flexible seats and flexible work are on the rise, opening the doors to much needed desk management technology. We've experienced rapid digital transformation these past years. The post-pandemic workplace is asking for more spread out workstations and optimizing existing spaces upon reentry.
One approach is using the same space, but having less desks, resulting in more employees than desks at the office. And with many companies looking to return to the office at 50% capacity to accommodate changing work environment needs, we're faced with the problem of allocating desks and deciphering which employees can come in, when, and where they're actually going to sit.
That is why we're seeing companies looking for smart desking solutions to help them support an agile workforce with dynamic needs for on-site and in-person activity-based projects.
What is smart desking?
Smart desking uses technology to accommodate desk sharing and office hoteling where automation, sensors, and IoT help office managers allocate seats in real-time, optimize real estate, and better configure resources across physical spaces.
Why do I need desk management software?
We're looking at a worldwide de-densification of the office. Less people, but the same amount of space. Workstation usage will be based on employee needs. When, how, and where an employee needs to work changes from day to day.
Companies using desk management software are doing so to help control how many people come on-site, when, and where they're going to sit. It's an overarching approach to resource management all siloed through one command center.
You can use spaces more with better intent to accommodate work-from-anywhere, on premise, and hybrid models.
How do I use desk management software?
Desk scheduling software helps you control where seats are located, who can sit when and where, and how shared workstations can be reserved (app vs near-field communication vs touch screen). Let's say you have 500 employees but want to only have 50% capacity over the next 3 months. that means you have to either remove or deactivate 200+ desks across your workplace.
In addition to that, you want to make sure note everyone walks through the doors at 8am - creating high traffic areas. So of the 250 active desks, you want 100 to be used only between 7am - 3pm, another 100 to be used only between 10am - 6pm.
Next, you want all of your executives and their support staff (the remaining 50 seats) to be able to come on-site at any time, but you want them to still book a desk in advance so that you can know how many people are on-site at any given time.
Now, that is a super simple look at how some companies are managing desks as part of their phased reentry strategy and back to work planning. But things can and do get more complex with bigger workforces and use cases for diverse desk booking rules. Desk management software with advanced rules engines truly allow workplace operations get into the nitty gritty of it all. But, from an employee's perspective, all you know when you open up your desk booking app, is that you are assigned the AM work shift (7am - 3pm) and there are currently 3 desks available in building 2 and 1 desk remaining in building 4. You can book any of them.
But you may want one that is near the cafeteria or a conference room you'll be using that day. Possibly, you'll need a desk near a whiteboard or one that has phone charging because you're running low on juice. You can easily look these things up then - book a room!
Who benefits from desk booking?
Everyone really. But each workplace persona benefits a little differently.
Employees have greater flexibility in choosing a place to work with on-the-go access, so they can reserve a desk at home or on the train ride in

Infrequent visitors feel more comfortable when they are on-site, such as contractors, seasonal, and remote workers

Facilities gets better insights into active/inactive workstations and can streamline cleaning protocols
Real estate can determine how well spaces are being used and improve their real estate footprint
Workplace experience teams can refine the employee journey from their transition from at-home to on-site
Human resources also benefits from being able to communicate with employees that come into contact with contaminated spaces
The list goes on and on...
What are the different types of desk allocation and seating arrangements?
Just because you have people coming and going, doesn't mean you need to give up on a standard of care for your seating arrangements. Desk booking allows you to create more flexibility by bringing multiple seating types into your digital workplace platform that match your office setup.
Assigned Desks - book your own desk to let operations know you're coming into the office
Hoteling - book a desk ahead of time day of, a week out etc.
Hot Desk - on demand, on-site, walk up and reserve a desk (offices, conference rooms, other touchdown areas)
Reverse Hoteling - release your desk into the general inventory pool to increase bookable seats
How do I limit the number of employees that can come into the office?
Limiting on-site employees can be done in a variety of ways. You can put restrictions on the number of desks that are active, restrict them by building, by floor, or even by neighborhood. This gives you greater control over workspaces by reducing the amount of total available space.
How can desk booking software help with space utilization?
When you're working with fewer desks or changing the configuration of your workspace all together, understanding how your physical spaces and workstations are being used helps you make real-time adjustments to overall layout and office capacities.
Desk booking software can help:
Eliminate ghost bookings and zombie rooms by automatically releasing them when no one shows up

Give you insights into underused spaces so you can reconfigure layouts and allotments

Show how many seats are actively occupied so you can either release or restrict current and future bookings
Can smart desking help improve safety and workplace wellness?
Safety is one of the biggest concerns re-entering a post-COVID workplace. When you use desks to manage employee allocation, ingress and egress flows you also gain better control over physical distancing.
Smart desking integrations with sensors and peer to peer social distancing alerts help with contact tracing by knowing who sat where and when. You can also funnel recently used desks into a cleaning queue as part of your workplace wellness program.
What are desk amenities? Do they really matter?
Desk amenities are definitely important for any modern employee. When you don't have an assigned desk or unfamiliar with where you'll be sitting, you need to know what is available to you. Think of your typical desktop setup, what do you see? What is on the surface of your desk? What do you access all the time.
Desk amenities can include:
Additional monitors for multi-screen setups
Wireless charging for phones, tablets and other devices
Nearby a window
Nearby a copy room
Adjustable desk height
Adjustable partitions
Really, whatever amenities you provide to employees that might vary by department or desk location is something you should show your employees when they are looking to reserve a workstation. They want to know!
Should we require reservations for other shared spaces?
Definitely. Making conference rooms, offices, and other shared spaces available in your desk management system is a huge value-add for a streamlined employee experience. On-site processes and protocols should be connected and easily repeatable so that everyone is on the same page as to how business runs on campus.
Similar to desks, you'll also want to list of conference room amenities so you can make sure to match work activity with the work environment capabilities to further refine space usage.
How do I Book A Desk?
With a desk and room booking app you have two choices.
Pull up the live availability map and look for a little green dot to show you desks that area available to you for booking. If you see a desk you like, check out the amenities, then confirm your reservation.

Alternatively, if you're looking to book something a bit more niche, you can enter custom timeframes and search for a desk based on time requirements or day of the week you need to reserve your desk. You can even look up a colleague, see where they're sitting that day and opt to find a desk near them.
Why do I need an app to book a desk?
Mobile apps enhance teamwork, collaboration, and productivity on-the-go. Employees can quickly search a desk inventory to find availability and book a workstation, office, or conference room they need in only seconds.
If you don't use an app, and opt for another approach such as shared devices, two major pitfalls are increased contact between people and the inability to reserve your desk from anywhere but inside the walls of the office. Ipads and other touch screens aren't cost effective and require additional software updates and maintenance efforts. This is not ideal for traveling workers and anyone that wants to plan their workday ahead of time.
Using an employee app for desk scheduling gives employees the ability to define their work environment needs in one quick-access location - day in and day out.
This includes extended use cases such as finding your desk, locating a colleague, traveling between meetings to conference rooms etc.
What you should be looking for in a desk booking tool
Desk Management Software Features
Here's what you want to look for as baseline desk booking features:
Live availability

Desk amenities

Employee directory

Wayfinding and indoor navigation

Automatic release

On-site booking (NFC or app)

Find a colleague

Office dashboard
Desk/occupancy sensors
Contact tracing
In-app notifications
Rules manager
Desk Management Software Benefits
Here's some easy wins for your workplace use case:
Book at anytime, from anywhere

Make reservations in advance

Reduce real estate costs

Change settings as needed

Use advanced entitlements

Provide real-time insights to how many spaces are in use

Lower overhead (no wasted spaces)

Provide workflows for business travelers, guests etc. that aren't always in that location

Include location-aware features

One process for on-site worker expectations employees can easily understand

Help with occupancy management

Deliver efficient cleaning protocols
Topics Covered