How to Build a Connected Workplace with IoT Technology
May 10, 2023

Adam Benson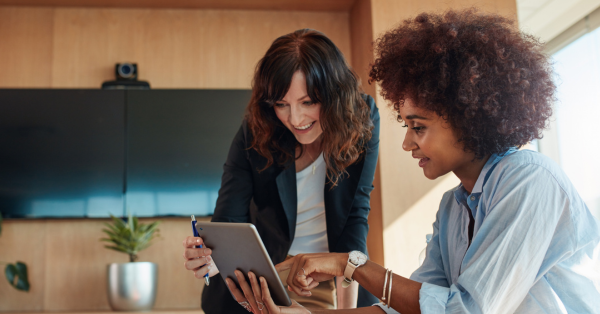 The modern workplace is evolving and so are the needs of employees. The paradigm of a fixed workstation between the hours of nine to five is being replaced by a desire for dynamic and cooperative work cultures that encourage flexibility and collaboration.
Why? Static work models feel antiquated next to mobile-led, hybrid work environments that support employees' professional and personal success. This transition is especially noticeable within the tech and development sectors, where employees want to work in an environment that cultivates creativity, productivity, and a sense of community that also respects their autonomy and work-life balance.
And unsurprisingly, IoT technology is pivotal in supporting hybrid workplaces because of the ways in which it increases productivity and boosts connectivity.
Technology helps facilitate inclusivity for those employees working remotely but also entices local workers to venture into the office and manage their onsite experience when in the building.
In this article, we'll explore how enterprise leaders can use IoT to build a connected workplace that meets the needs of modern employees while pinpointing the best hybrid workplace touchpoints for enhancing productivity and collaboration. Let's start by laying the foundation with a few definitions.
What is a Connected Workplace?
A connected workplace is a workplace that uses technology to connect employees, devices, and systems in a way that enhances collaboration, communication, and productivity. This can include the use of tools such as an employee experience platform, unified communications, and Internet of Things (IoT) devices.
What is Workplace IoT?
The Internet of Things, also known as IoT, is the concept of devices (things) and the connectivity which allows these things to communicate, interact, and exchange data (the internet).
Workplace IoT deals with this interconnectedness in the context of any workplace environment — whether remote, hybrid, or in-person — with the primary purpose of centralizing information and streamlining processes.
For example, a connected workplace has IoT networks that support the proper functioning of hybrid workplaces and improve employee experience (along with core business departments like IT and operations, but more on that later.) When it comes to employee experience, these IoT networks can enable air quality monitoring, temperature sensing, occupancy metrics, automatic check-in, and more.
For example, our Workplace SuperAppTM has an ecosystem, inclusive of over 104 enterprise partner integrations - each integration contributes to a connected workplace. And this connected workplace delivers win-win outcomes for leaders and their people, leaving many asking: how can I build one?
3 Key IoT Technologies for Building a Connected Workplace
With connectivity clearly playing a vital role in hybrid work, it's becoming paramount, especially for enterprise leaders with global teams, to build connected workplaces that streamline processes, integrate with existing systems, and provide a seamless experience for employees. IoT-enabled technologies, the basis for connecting these touchpoints, are making this possible.
A recent Forbes article also indicated the value workers place on flexibility regarding where they work, which hinges on the technology made available to them so they can be fully functional regardless of location.
So, we see there are a variety of tools that can help build a connected workplace that allows employees to work effectively and support organizational goals. Among these are communication, collaboration, and workplace analytics tools.
Workplace IoT: Collaboration Tools in a Connected Workplace
There are a variety of tools that can help build a connected workplace that allows employees to collaborate at scale. For instance, our Workplace SuperApp™ has a tool called "find-a-colleague." This native feature makes it easy for employees to find team members so they can connect and collaborate
We engineered our super app to help provide powerful functionality, organizational reporting structures, and seamless collaboration within the platform.
Here are three examples where workplace experience managers, and leaders like them, can harness IoT to support their hybrid workplace:
Internal newsfeed: From internal updates to industry news articles, internal news feeds help keep everyone informed. They also provide a platform for employees to share content. For example, a marketing manager can post content they've authored to an internal news feed to encourage their team members to check out the piece on the company website.
Multiple campuses and campus information: These elements enable people to move seamlessly from location to location, with everything they need to know in one app.
Mobile Push Notifications: This can be extremely helpful for time-sensitive updates. For example, a team member returning back to the office after lunch may need an invitation for a meeting scheduled immediately after their break hour.
And these are only a few examples of hundreds in our platform. Every day our customers are discovering new ways to use the product to meet everyday business challenges.
Super apps on the market, ours included, also offer integrations with quality workplace tools that support collaboration like Teams or Slack. Having these tools in your Workplace IoT network makes it easy for teams to connect in real-time, share files and information, and collaborate whenever, and wherever.
Similarly, communication tools are geared toward building connectivity through timely updates that help mobilize the hybrid workplace.
Communications Tools That Support a Connected Workplace
Many super apps are adding smart speakers, voice assistants, and chatbots to their arsenal to provide a hands-free way for employees to access information, ask questions, and receive updates.
In the workplace IoT network, these features simplify the hybrid work journey and offer multiple types of communication tailored to the mobile-led hybrid work model.
And with the heightened ability to connect on-the-go at key touchpoints (that in times past were dominated by email or in person meetings) we are seeing the mobilization of the workplace.
More popular examples of super app tools driving this shift include SMS messages and workplace sensors, as well as:
Support for Hybrid Events: Employees can join company events through their workplace app or in-person and stay connected from wherever they are.
Mobile Notifications: Messages sent to employees are typically triggered by different events within a super app, such as being added to a meeting or event or other communications from admins and other stakeholders.
In a connected workplace, these super app tools should be integrated with existing workplace systems, such as email and messaging platforms to enhance enterprise-wide communications.
Workplace analytics should be synced to this network as well to provide a more streamlined experience with data and actionable insights driving key decisions.
How to Build a Connected Workplace with Workplace Analytics Tools
Access points between booking tools and communication tools created by sensors can sync data sets; This creates a centralized location needed for cross-functional operations. For enterprise organizations, this makes gathering and sharing analytics seamless — from marketing to sales, through procurement, and during customer success programs.
When it comes to the hybrid workplace journey, at every touchpoint, from the café to a booked desk, or even exiting a conference room, workplace sensors can also communicate with signals throughout an indoor location to ensure that employees always find their way and can communicate with their team in the process.
These sensors can also provide workplace analytics that can be used to determine occupancy and dramatically increase understanding and reporting around spaces and meetings. For example, this occupancy data can highlight if a room is in use and release unused rooms to be booked by others. Sensors can also:
Be combined with virtual Bluetooth beacons within Wi-Fi access points in large implementations requiring widespread coverage and accuracy
Be leveraged for on-device positioning and proximity notifications where employees receive helpful communications on their phones when entering certain areas inside and outside of buildings
IoT-enabled collaboration, communication, and workplace analytics tools are key pillars for creating a connected workplace, but they also have another notable benefit for enterprise organizations: ensuring security across multiple locations.
How Enterprises Secure Employee Information in the Connected Workplace
With hybrid databases, data can be stored in one location and backed up to another server. While flexibility and easy access to files are primary reasons for building such a database, the dual locations provide a necessary layer of security for private information like employee passwords, health records, and background checks.
Whether at home, on the go, or in the office, distributed teams need secure access super apps provide this capability, for example:
The primary hosting environment for our platform allows for secure worldwide regional hosting with features like:

Single Sign-On (SSO): SSO allows employees to securely log into CXApp using their domain credentials easily. For example: It allows secure corporate login for all platform applications from iOS Mobile Apps and Android Mobile Apps to our Smart Campus Web Application and Content Management System.
Automatic scaling to allow for any size user base on the platform: This ensures that data is always accessible, even in the event of a local outage or disaster.
Depending on configuration and current setup, we may also allow for secure auto-provisioning of users to platform applications when signing in. And what's more is this same IoT network framework that ensures security also drives success for workplace managers with varying responsibilities.
These databases can provide a more secure way to store and access sensitive information, such as employee data and confidential documents like vaccinations.
How Workplace Managers Can Use IoT to Improve Hybrid Work
As the world of work becomes increasingly hybrid, both facilities and employee experience professionals will have to figure out how to build a unified experience for employees that combines digital and physical components seamlessly.
In these examples, by reducing app overload, the IoT technology framework will help free up time for employees to focus on more important tasks, while also ensuring that facilities support requests are handled quickly and efficiently
This results in improved response times and ensures that facilities are always maintained to a high standard, becoming places employees love!
CXApp's platform, the Workplace SuperAppTM, leans into the IoT to help improve employee experience, identify areas for improvement, optimize workplace operations, and create engaging and productive workplace environments.
For example, workplace experience managers can create programs based on popular activities, or host training in response to common roadblocks, like getting started with SSO on new devices.
Ready to Build your Connected Workplace?
The growing need for connected workplaces is reshaping the approach to workplace management. Since connected workplaces provide the infrastructure to optimize organizations based on employee experience, these metrics will continue to highlight specific needs and create actionable data sets for workplace experience leaders allowing them to make better decisions about how best support their workforce (and save money).
Incorporating suitable integrations at every touchpoint is the next step.
As organizations with connected workplace solutions build teams and expand locations, the systems held together through IoT networks will evolve.
And that's the goal.
At CXApp, we believe the future of work is all about employee engagement and utilizing IoT technology to create a more connected workplace. With our Workplace SuperAppTM, we aim to help guide leaders to the best systems for their employees as they move along the path to connecting touch points.
Book a demo to learn more about the tools, systems, and strategies that can help you build a connected workplace and empower your people to be successful in their roles.
Take a Tour of the Workplace SuperAppTM
Topics Covered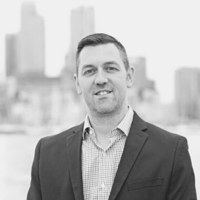 Adam Benson
An entrepreneurial leader with a passion for disruptive technologies, Adam Benson leads CXApp engineering teams. Adam's experience includes leveraging innovation – including location-aware services, AI and IoT – to deliver compelling business products and solutions. His deep experience in retail, technology solutions, and data analytics is a rare combination.