The Evolution of the Employee App: From EventTech to Worktech
May 2, 2023

Leon Papkoff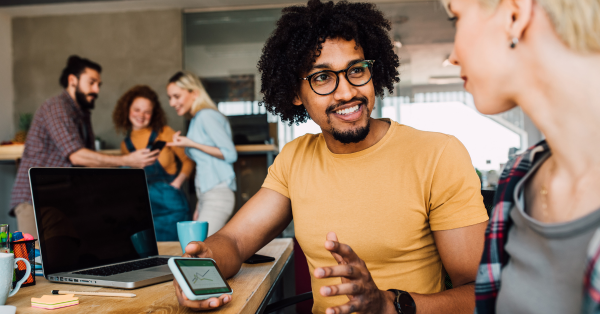 Workplace experience has undergone significant transformation over the years. With technology revolutionizing the workplace, the way we collaborate, conduct business, and even interact with our team members has dramatically changed. From the first email being sent in 1971 and becoming the king of communication in the 1980s to it now being just one tool in an arsenal of messaging apps like Slack, and Microsoft Teams Messenger, workplace communication has evolved tremendously. And It's hard to believe that centralized project management tools like Basecamp, which was also introduced in the 1990's, are the tools that are still used today for making work 'easy.'
With hybrid work becoming the norm for many companies, employees have come to expect the ability to work from anywhere, on their own schedule, using the tools and tech that work best for them. The need for better, personalized communication and engagement tools to connect these distributed workplaces has become paramount.
This shift in expectations puts pressure on companies to not only adapt but embrace new ways of working. Over the years, we have continuously improved our platform to meet the changing needs of the workplace and trends in employee mobile app development. Our origin and focus on innovation and employee experience has helped us stay ahead of the curve and become a leading enterprise-grade mobile app for workplace experience.
In this blog, we'll take a closer look at our origin story and how The Workplace SuperAppTM came to be, from our not-so-traditional beginnings in enterprise events to our current position as a game-changer in workplace experience.
Leveraging Event App Technology for Digital Workplace Architecture
In 2017 we were working with enterprise companies (like Aruba Networks) to host thousands of people at their annual conference using our mobile event app. With our platform, we were able to help organizers improve attendee experiences by having all event logistics, sessions, tracks, and social media in one event app that was easily accessible before, during, and after the event. Other key components that were emerging trends at the time were SSO for seamless attendee sign-in and blue dot navigation for wayfinding around the event.
When it came to accessibility, every attendee could use a single platform to access all event info, reducing confusion and ensuring everyone, from sponsors and exhibitors to attendees, was on the same page. There was even full access to the agenda, which anyone could use to customize their schedule on the go. Essentially, organizers were able to ensure that attendees had all the information they needed at their fingertips, creating an immersive on-site event experience for the books.
From the beginning, our event app architecture was designed to offer a streamlined and contextual experience that made the entire event journey easy. We knew that the way the event industry was going, digital transformation was inevitable, so it was more about the value of the experiences you were able to provide in-app that were making the biggest impact for 'buyers' and end-users alike.
As we gained in popularity, we began having conversations with enterprise leaders to map out what it would take to do similar experiences at their offices or workplaces to build out on-site experiences. This is when we pivoted.
So, What Does Workplace Technology Have to Do With Event Management Technology?
Cut and dry, the success of CXApp (as a workplace tool) can be largely attributed to this event model, designed using a multi-tenant architecture. Corporate events are typically held year after year or multiple times a year. So, the ease of having a custom branded app that users only must download one time was groundbreaking. This architecture uses a single instance of an app to serve multiple customers or tenants. For each tenant, their data is isolated and secure, and the application was engineered to be highly scalable and customizable. So, when you're looking at a multi-event model for global event programs you can start to see how a multi-location model for global corporate offices becomes applicable for a scalable workplace solution architecture.
Seamless Communication and Navigation Anywhere, Anytime
But it's not just the technical architecture that distinguished CXApp.
Indoor navigation became increasingly popular at events, as an easy in-app option for event attendees to navigate between different sessions, rooms, networking areas, and other points of interest. This has direct correlation to the office, where employees need to navigate, in-app, to reserved desks, meeting rooms, buildings, floors, and other resources.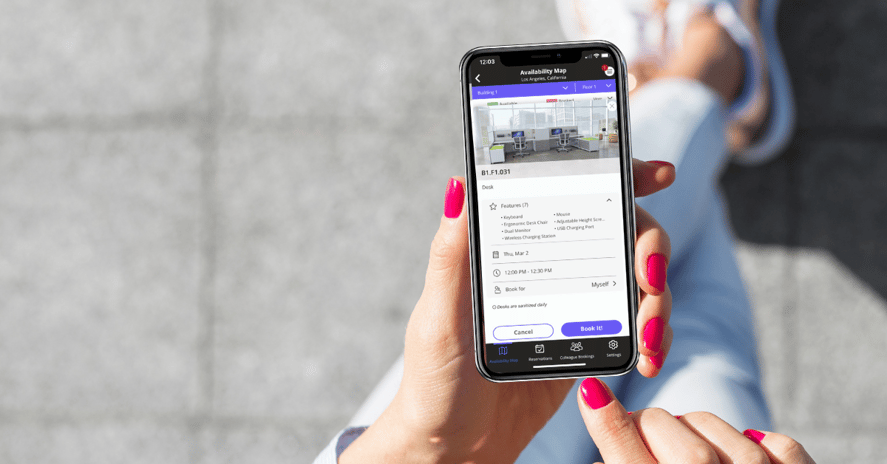 Also, when you think about it, events typically happen a handful of times each year, leaving a missed connection point for attendees to network throughout the year. The community feature of CXApp helped event attendees connect between event sessions with updated newsfeeds, user-generated content, and even podcast players. The event community is the attendees and members, the workplace community of course, is your employees.
Integrations are also an essential aspect of meeting and event management. CXApp added integrations with other service providers that offer features like registration and badge check-in for a seamless experience for attendees and event organizers alike. This initial focus on scalability and integration became the segue to cementing a partner ecosystem for the workplace and put us on the trajectory to become the Workplace SuperAppTM.
Workplace Experience Apps Response to Pandemic Use Cases
The virtualization of work was trending well before the COVID-19 outbreak. But the resulting pandemic was a catalyst for workplace innovation. Globally, employers took precautions to ensure the safety of invaluable assets: their people. From the onset, many organizations with primarily in-person workplace models made a swift pivot toward a company-wide remote workplace, where companies searched for tools to support safe in-person work environments.
Eventually, as more information surfaced about COVID-19 and vaccinations were widely distributed, people began trickling into the office two to three days a week. What we have now is the result: the rise of hybrid work.
Desk booking, for instance, has become an important necessity for employees. Essentially allowing them to reserve their workspaces in advance. Health and safety forms, on the other hand, were already in play, but their administration had been enhanced to make it easier for people managers to stay up to date with things like vaccine records, as well as other critical health and safety requirements. And for enterprise-level organizations especially, businesses sought out office mapping tools to help their people navigate changing workplaces and facility closures.
From physiological and safety needs to social connection and self-actualization, organization heads began to pinpoint employee experience issues in hybrid workplaces and devise back-to-office action plans. At the helm of these execution strategies, was making technological investments in employee experience platforms; the platforms we see shaping the future of work. Concurrently, as people across diverse industries embraced hybrid work and new policies, returning to the office with confidence became the new organizational target.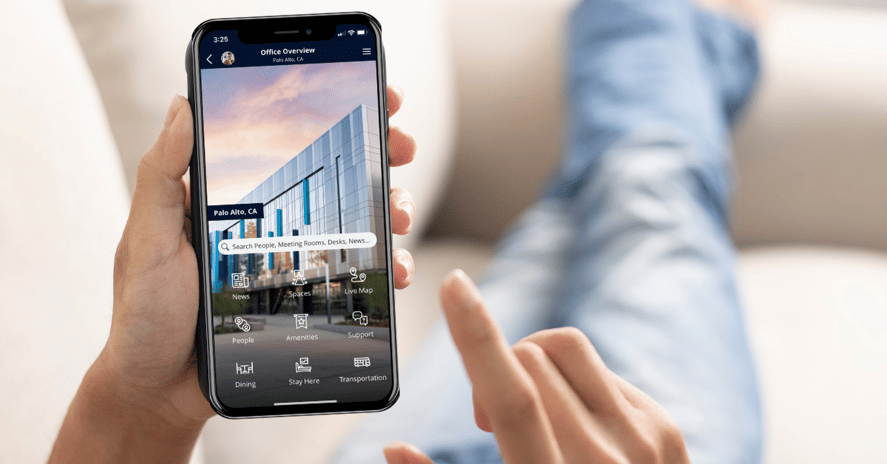 Why Enterprise Companies Want an Employee Mobile App Today
Slowly but surely, people are returning to the physical office, but hybrid workplaces are becoming the leading workplace model. A study conducted by McKinsey and Ipsos found that, in 2022, 58 percent of Americans had the opportunity to work from home at least one day a week, 38 percent were not generally required to be in the office at all.
Investment in workplace innovation continues to grow, despite industry trends indicating offices are sitting at an estimated 30-40% capacity.
Companies are looking for employee experience apps that help drive better employee engagement. A mixture of immersive events, find-a-colleague tools, desk booking, and wayfinding technology tailored for hybrid workplaces are set to remedy issues like employee disconnection and more.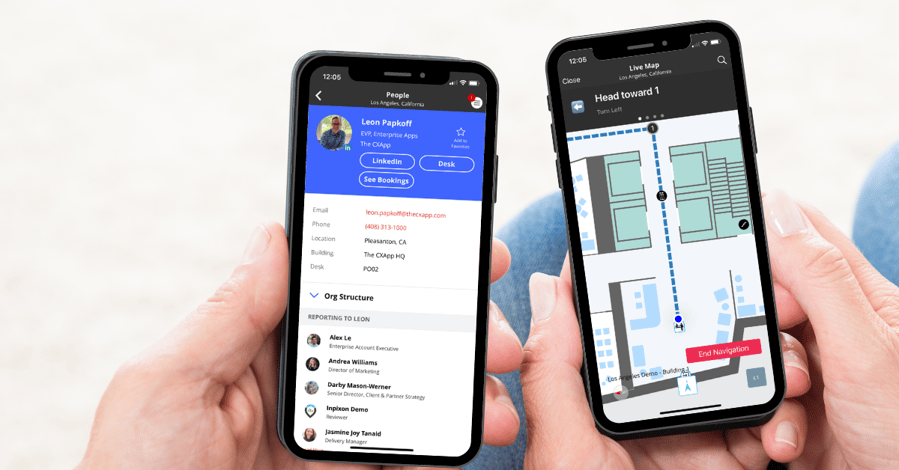 For instance, organizations are looking to workplace apps to easily:
Send employee surveys that help people managers gauge program success

Host in-app events that boost employee morale

Share the corporate communications that keep everyone informed
The resulting emergence of workplace apps (and the increasing demand for them), is helping bridge the gap between employees needing more support and a deeper connection to colleagues — and employer accountability for their day-to-day hybrid workflow experiences.
Plus, with recent studies showing that only 32% of full- and part-time employees are engaged (while 18% are actively disengaged) these workplace apps are graduating from luxury to necessity. And as more and more companies see that investment in workplace experience leads to improved organizational outcomes, the future of work will look increasingly tailored to hybrid workflow simplification and workplace app personalization.
Prioritizing the Workplace of the Future
The future of work is here. Companies, especially at the enterprise level, need robust platforms with capabilities that match the evolving workplace with integrated services for events, networking, and collaboration style meetings. That's why we're developing new features for an enhanced employee experience, including:
Personalized experiences, at work, that make your workday even better.

For example, if you are interested in technology industry updates, the interactive news feed feature can curate a daily feed in the app for you to stay up to date with the latest advancements.

AR navigation features that use your phone's camera to guide you through your spaces with real-time arrows on your screen.

This means no more beacons or additional hardware for corporate wayfinding.

AI and machine learning to accelerate and simplify steps in hybrid workflows.

For instance, say you have a couple of minutes before a meeting, with AI and machine learning, you can have your coffee made and preordered at your typical break time. A game-changer when it comes to saving time, boosting productivity, and encouraging people to return to physical offices.

Workplace analytics to help understand the ROI of corporate real estate and workplace experience initiatives.
The workplace industry is constantly evolving, and with the rise of hybrid work, it's more important than ever for companies to have accurate data about how their spaces are being used. With many employees working only two to three days in the office, more accountability is needed in regard to minimally used areas.
That's why the trend for the next few years will be reporting data back to corporate workplace experience managers and real estate teams about how apps can give anonymous data related to the daily usage of each campus, building, floor, and area.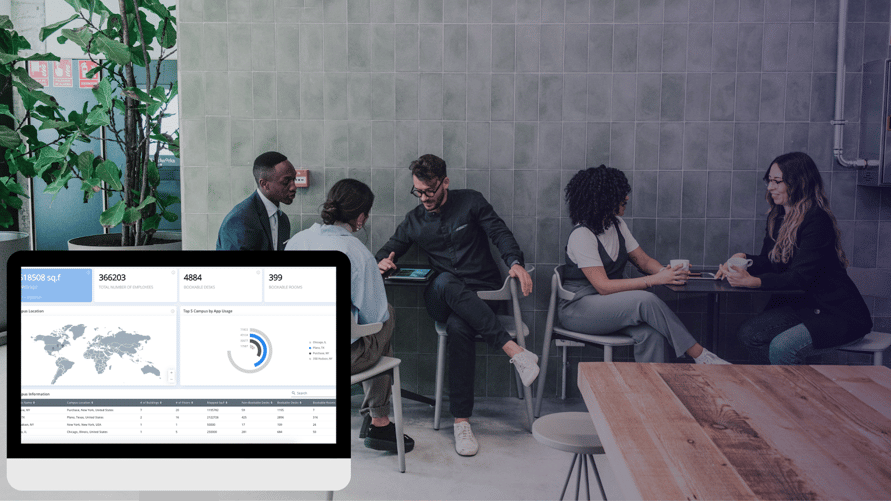 And this information is invaluable to corporate real estate and workplace teams as they work to right-size their real estate portfolios to the correct ratios, given that many employees now work from home and the office. By leveraging this data, companies can make informed decisions about their real estate needs and optimize their spaces to better serve their employees.
As technology continues to advance, we at CXApp, will provide even more innovative ways for companies to collect and analyze data to drive their business decisions.
What's Next For Employee Apps and The Workplace Super App
We all see the workplace evolving. Employee collaboration and transparency around employee needs and what employers are doing to support them are at the forefront of conversations. And the workspaces that were once a grouping of static cubicles are now highly mobile, human-centered hubs.
As the Workplace SuperApp™, we're aligned with these shifts.
We help workplaces consolidate their tech stack, rewarding employees with better workplace experience to boost team collaboration and productivity and position any company as an innovative workplace leader — all while cutting costs.
If you're interested in learning more about the Workplace SuperApp™, contact us today to schedule a demo with a workplace expert. You'll get a first-hand view of specific use cases that further your workplace experience initiatives and create wins for your people. Or if you're looking to better understand super app trends and capabilities, feel free to download and share our latest eBook, the Rise of The Workplace SuperApp by filling out the form below.
Get the Rise of the Workplace SuperApp eBook
Topics Covered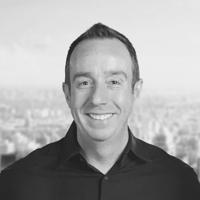 Leon Papkoff
Leon Papkoff is the Chief Product Officer of CXApp with 20+ years of executive leadership paving the way for emerging technologies shaping the future of work and dedicated to solving real problems for the digital workplace.